With the exponential growth of digital content, videos have become the most popular format of content on the internet.
Research shows that online video consumption accounts for one-third of all online activity, with 8% of people watching a video weekly and 55% viewing online videos daily. On average, people spend 6 hours and 48 minutes per week watching videos online, indicating that video content has become an integral part of our daily lives.
As the popularity of video content continues to rise, businesses and content creators need to ensure that their content is accessible to a global audience. The internet has made it easy to reach people globally, but language barriers can hinder a video's reach, regardless of its quality and content.
By translating your video content, you can reach people in their native language and make your videos more accessible.
It is especially crucial for businesses looking to expand their global footprint and engage with a diverse audience.
You can choose from the various subtitling companies and partner with an agency best suited for you.
Looking For A Reliable Subtitling Agency?
Milestone Localization can help your audio-visual content resonate with audiences across the world with our professional subtitling and closed captioning services in 70+ languages.
Benefits of video translation and subtitling
Adding subtitles and captions to your videos can be a game-changer!
Studies show that 80% of viewers are more likely to watch an entire video when captions are available. Additionally, adding subtitles can improve your video viewing time by 40% and video shares by 15%.
It can help increase engagement with your content, as viewers are more likely to engage with content tailored to their language and cultural preferences.
It will also enhance your brand image and increase customer satisfaction, brand awareness and brand loyalty. Video translation can also help boost your video's search engine optimization (SEO) by making it available to a larger audience, leading to increased visibility and higher search engine rankings.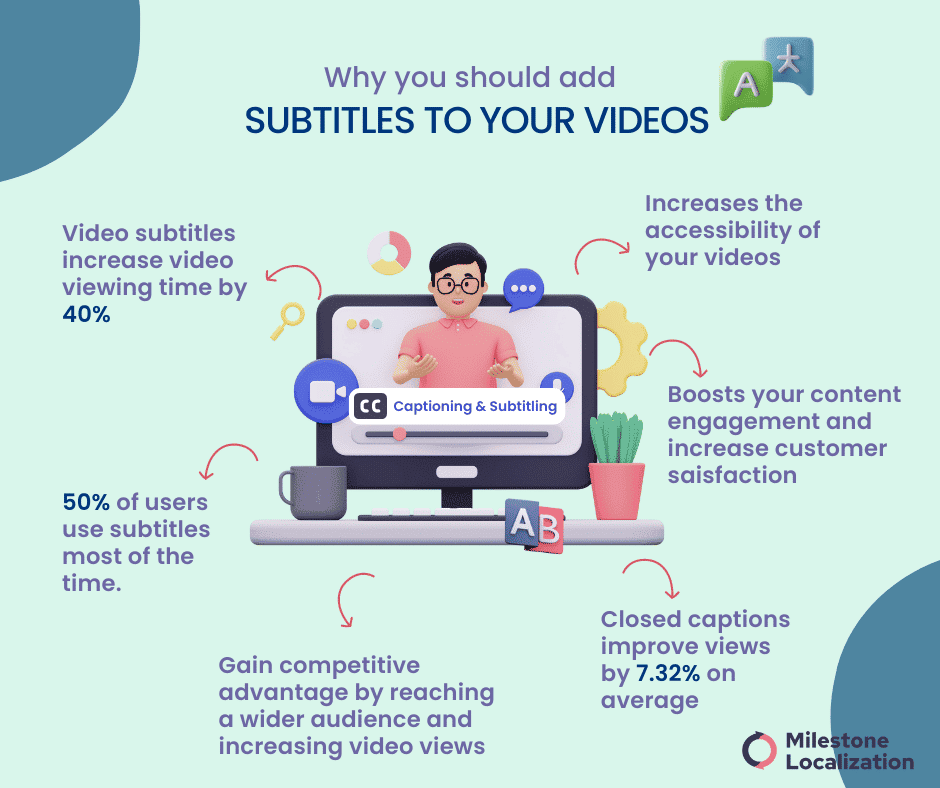 Also read: Everything About Multilingual Subtitles For eLearning Videos
Why you should work with a subtitling company
Video translation has become essential for businesses and content creators looking to engage with a global audience.
However, it's crucial to ensure that the translation process is done correctly to achieve the desired results.
When it comes to subtitling, you have a range of options. You can hire in-house subtitlers, and freelancers, use free subtitle-generating software or work with a professional subtitling company.
However, the question is, are they the right choice for you?
It is best to work with a professional subtitling company if you want accurate, culturally sensitive, and organically flowing subtitles that your target audience will find relatable.
Here are a few benefits that you can gain from outsourcing your subtitling requirements to a professional subtitling company.
Quality: Subtitling companies have teams of experienced subtitlers who can produce high-quality subtitles that are accurate, clear, and synchronized with the video. They also have access to specialised software and tools to produce subtitles efficiently and effectively.
Efficiency: Subtitling companies can handle large volumes of content and deliver subtitles within tight deadlines. They have the resources and expertise to manage complex subtitling projects, which can save time and effort for clients.
Localization: Subtitling companies can provide subtitles in multiple languages, allowing clients to reach a global audience. They also have a deep understanding of cultural nuances and can adapt subtitles to suit the target audience.
Cost-effectiveness: Outsourcing subtitling to a specialized company can be more cost-effective than hiring in-house subtitlers. Subtitling companies can offer competitive pricing, especially for large volumes of content.
Compliance: Subtitling companies are familiar with industry standards and regulations, such as accessibility guidelines for people with disabilities. They can ensure that subtitles meet these standards and are compliant with relevant regulations.
Top 10 Subtitling companies
Here is a list of top subtitling companies and a brief description of their services to help you choose the right one
1. Lionbridge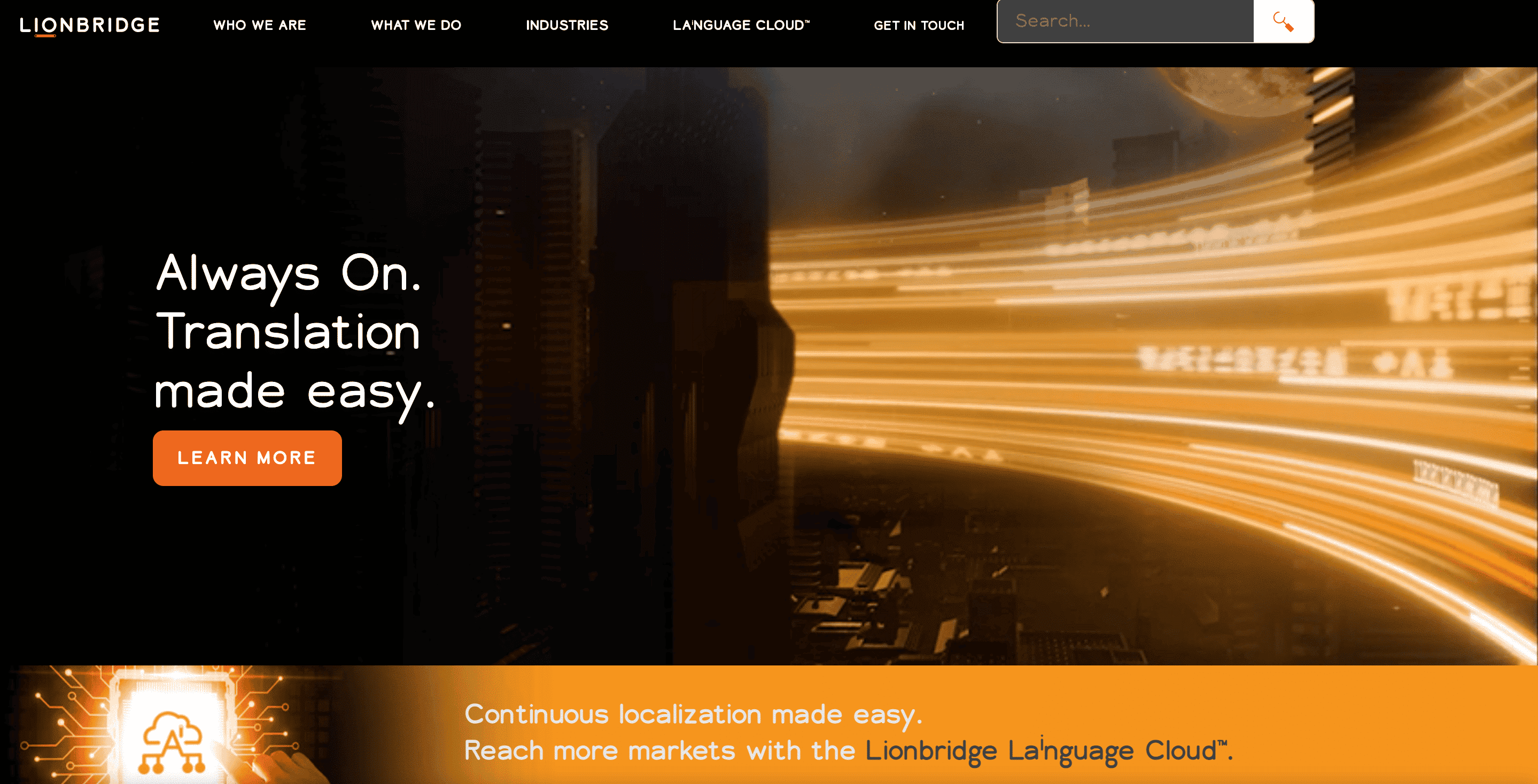 With over 25 years of experience, Lionbridge is one of the leading companies in the translation and localization industry.
They offer a complete package of video localization services including:
Video transcription and subtitling
Voice-over and dubbing
Video creating and post-production
3D Animation and Illustration
Closed and open caption subtitling
Their language services are available in 350+ languages and operate in over 500 cities.
Also read: Top 8 Website Localization Companies
2. Rev
Rev claims to be a top provider of speech-to-text services in the world and works with individuals as well as companies across the globe. Their video translation services include:
Transcription
Video Captioning and Subtitling
Live video captioning for zoom sessions
They work with over 7000 freelancers across the globe and utilise AI and other technologies to provide fast and flexible speech-to-text solutions.
3. Milestone Localization
Headquartered in India, Milestone Localization is an ISO 17100:2015 certified company providing language services to individuals and businesses across the globe. It is one of the leading subtitling companies providing services in over 70+ languages.
Milestone works with native bi-lingual subtitlers and transcriptionists having 4+ years of experience and domain expertise.
Video translation services offered by Milestone are:
They provide subtitling services for all kinds of videos from short ads and infomercials to documentaries and eLearning courses. Milestone Localization specializes in video translation and supports all video formats. Their subtitles and transcriptions are proofread, edited, quality assessed and integrated into videos.
98% of their clients say they would recommend their services to a colleague.
You can read the case study on subtitles translation here.
Also read: Subtitles vs Closed Captions: Everything You Need To Know
Make Your Video Content Accessible to Viewers Across The Globe
Milestone Localization can help your audio-visual content resonate with audiences across the globe with our professional subtitling and closed captioning services in 70+ languages.
4. Day Translations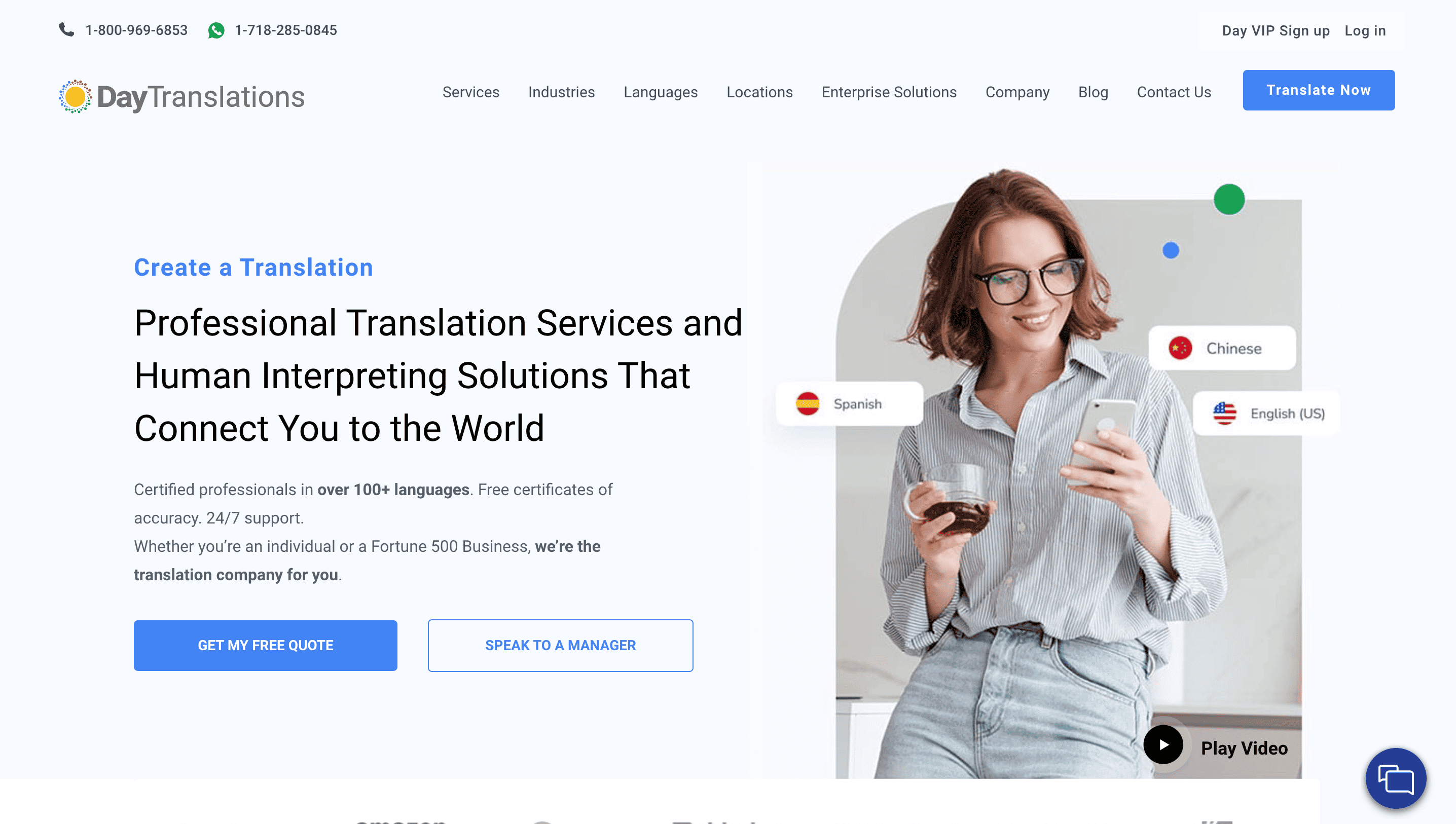 With a global network of over 10000 translators, Day translations provide subtitling services for business and entertainment around the world.
Their audio-visual services include:
Closed captioning and Subtitling
Audio and video transcription
Voice over
Subtitling services by Day Translations are available 24/7 and promise accurate translation with a faster turnaround for any language.
5. TransPerfect
With over 25+ years of experience in the industry, TransPerfect is a leading provider of translation and localization services.  They operate in 43 countries and have served customers from across the globe.
Their video translation services include
Multilingual video production
Subtitling
Transcription
However, their subtitling service is AI-driven and has been custom fitted for subtitling requirements across various platforms. Therefore, if you want your subtitling work to be done entirely by humans TransPerfect may not be the right choice.
Also read: Why Video Translation Is Worth It
6. GoTranscript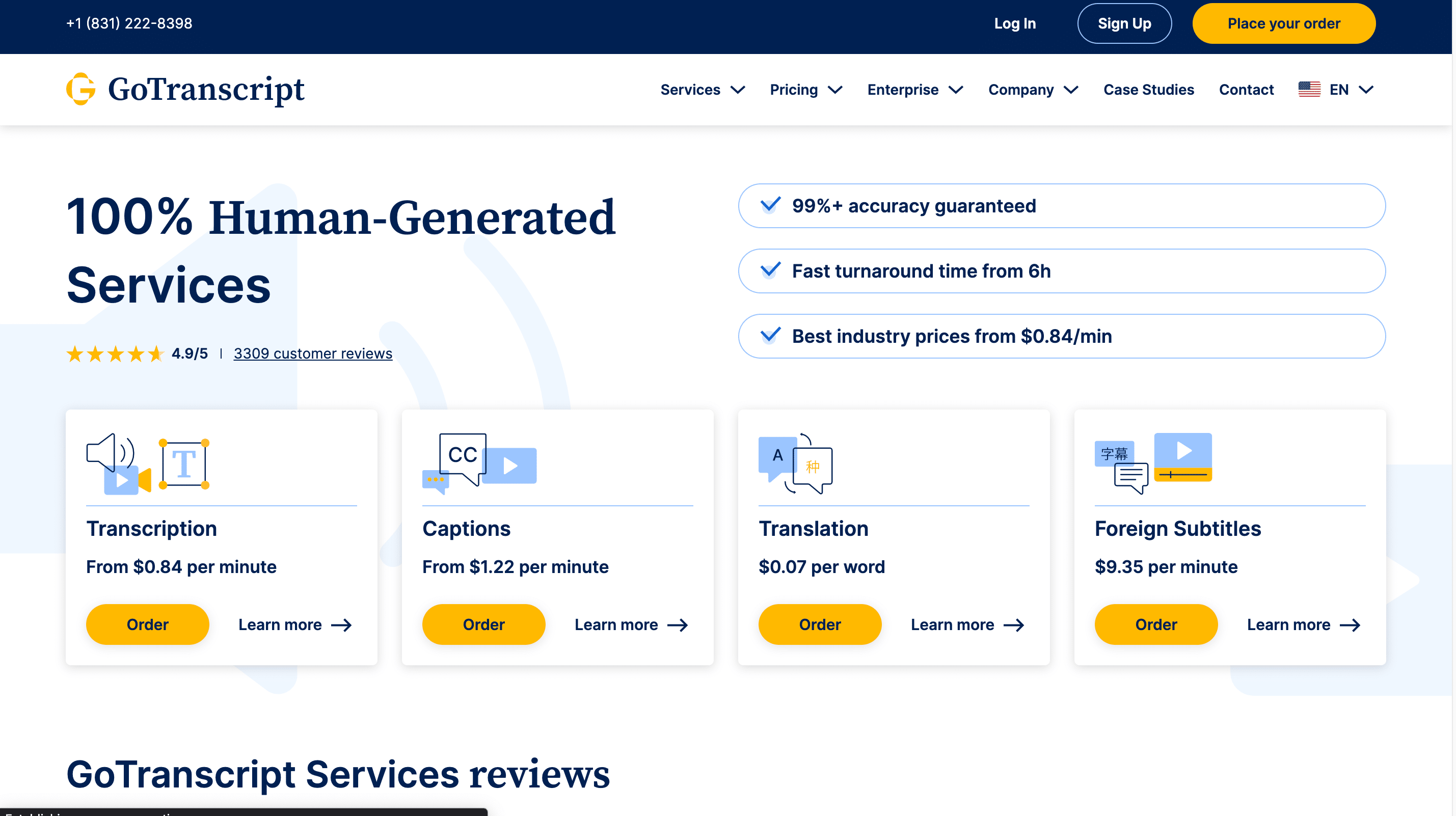 Founded in 2005, go transcript provides exclusive transcription services in 50+ languages. They promise a 99% quality guarantee with a quick turnaround time.
Their services include
Transcription
Subtitling
Captioning
Text translation.
They work with over 20000 professional subtitlers, proofreaders, and customer specialists around the globe and ensure your project deliverables meet your quality deadlines.
7. Semantix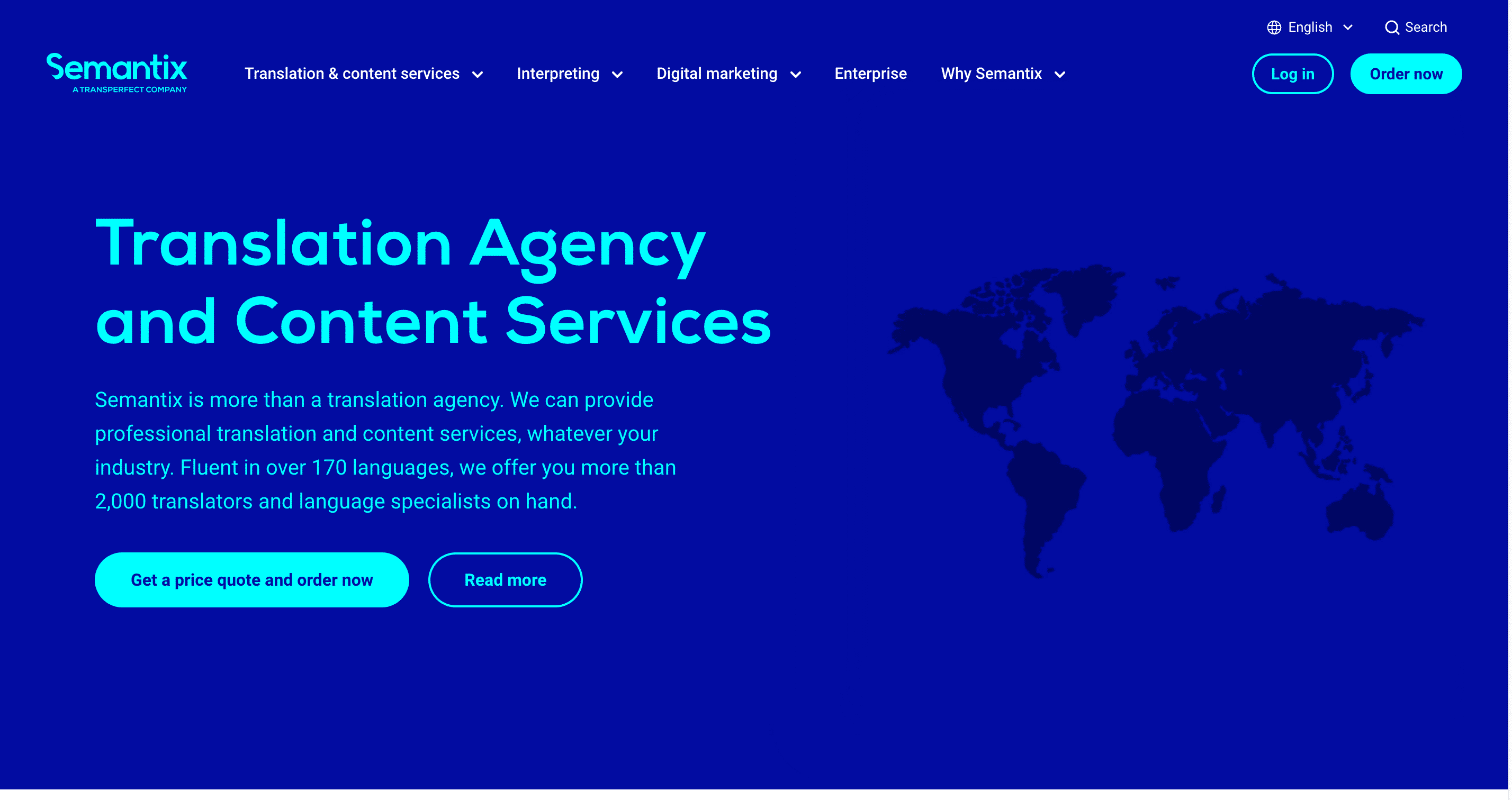 Semantix is one of the largest language companies with its offices located in seven countries. They work with a global network of 7000 language specialists and provide services in 238 languages.
Their video translation services include:
Subtitling
Voice over
Transcription
Semantix works with professional subtitles to provide multilingual subtitles for a multicultural audience across all domains.
Also read: Speech Transcription For AI: Why We Still Need Humans
8.  Tridindia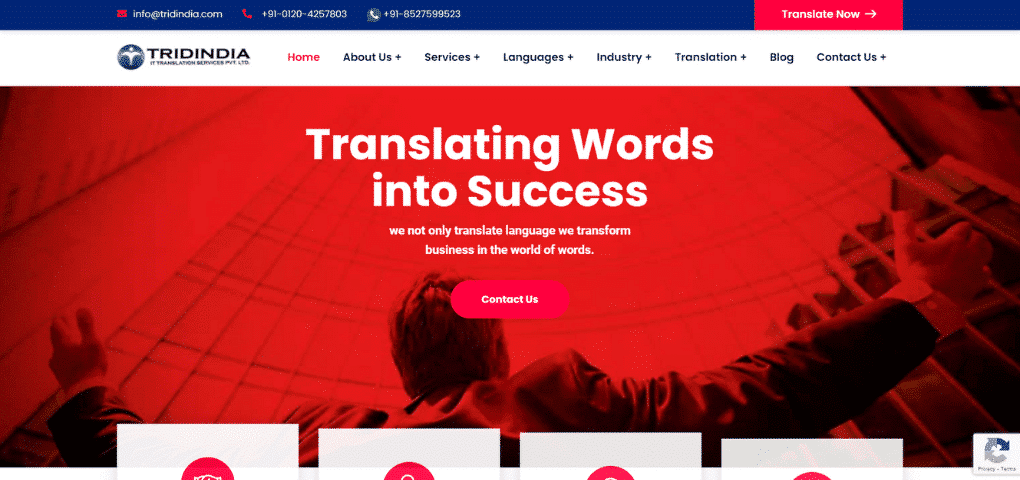 Founded in 2002, Tridindia is one of the leading names in the translation industry. They work with over 2000 native translators and provide services in 150+ languages.
Their video translation services include:
Video captioning and subtitling
Transcription
Voice-over and dubbing
Tridindia's services are available 24/7 and guarantee quality translations with a faster turnaround time.
9. Voxtab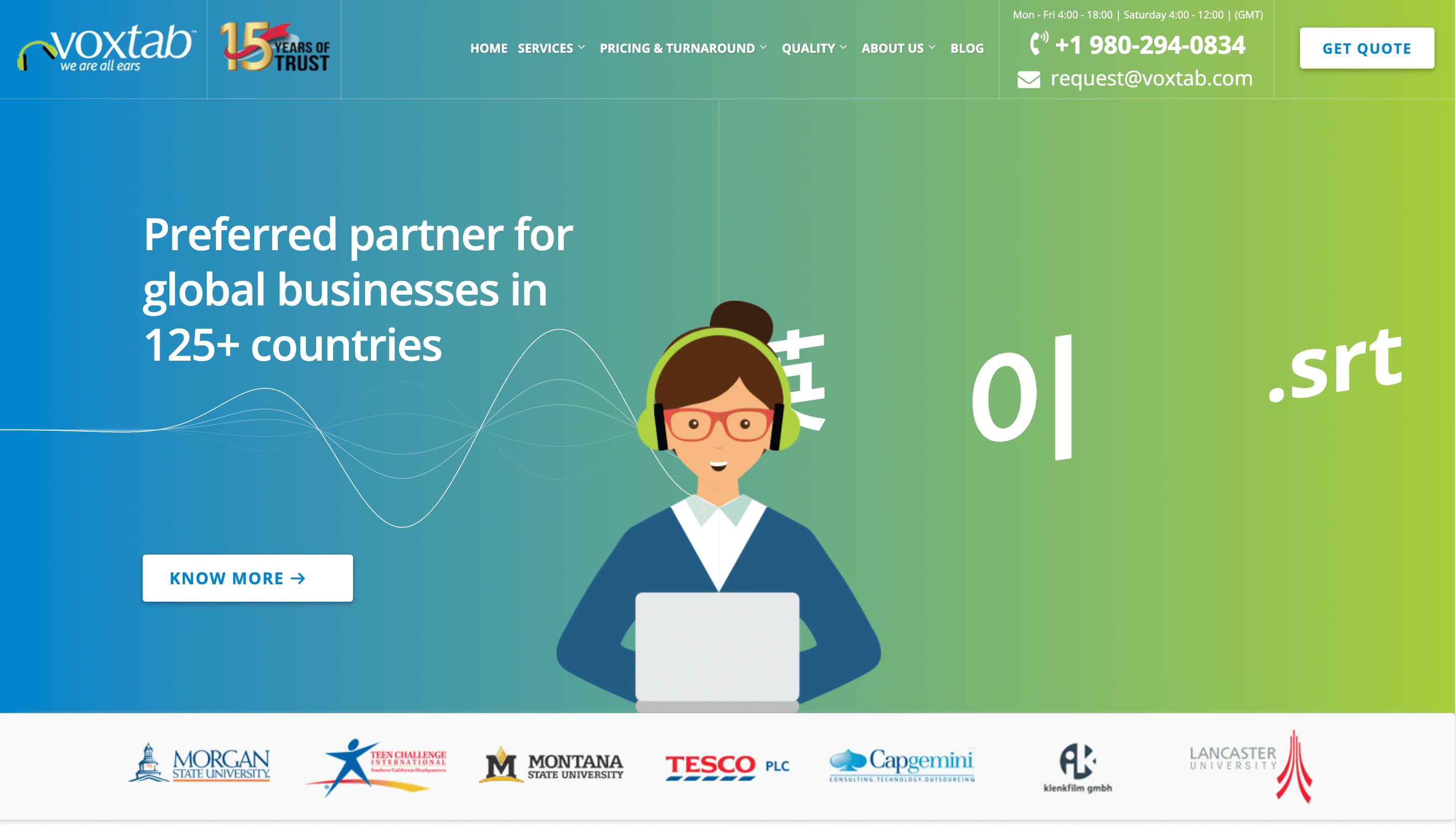 With over 15 years of experience, Voxtab provides professional video translation services in major languages across the globe.
Their video translation services include:
Video captioning and subtitling
Transcription
Voiceover
Voxtab promises best-in-class quality, on-time delivery and a quick turnaround with complementary services and data security.
Also read: Which Arabic Dialect To Use & Arabic Voiceover Challenges
10. Circle Translations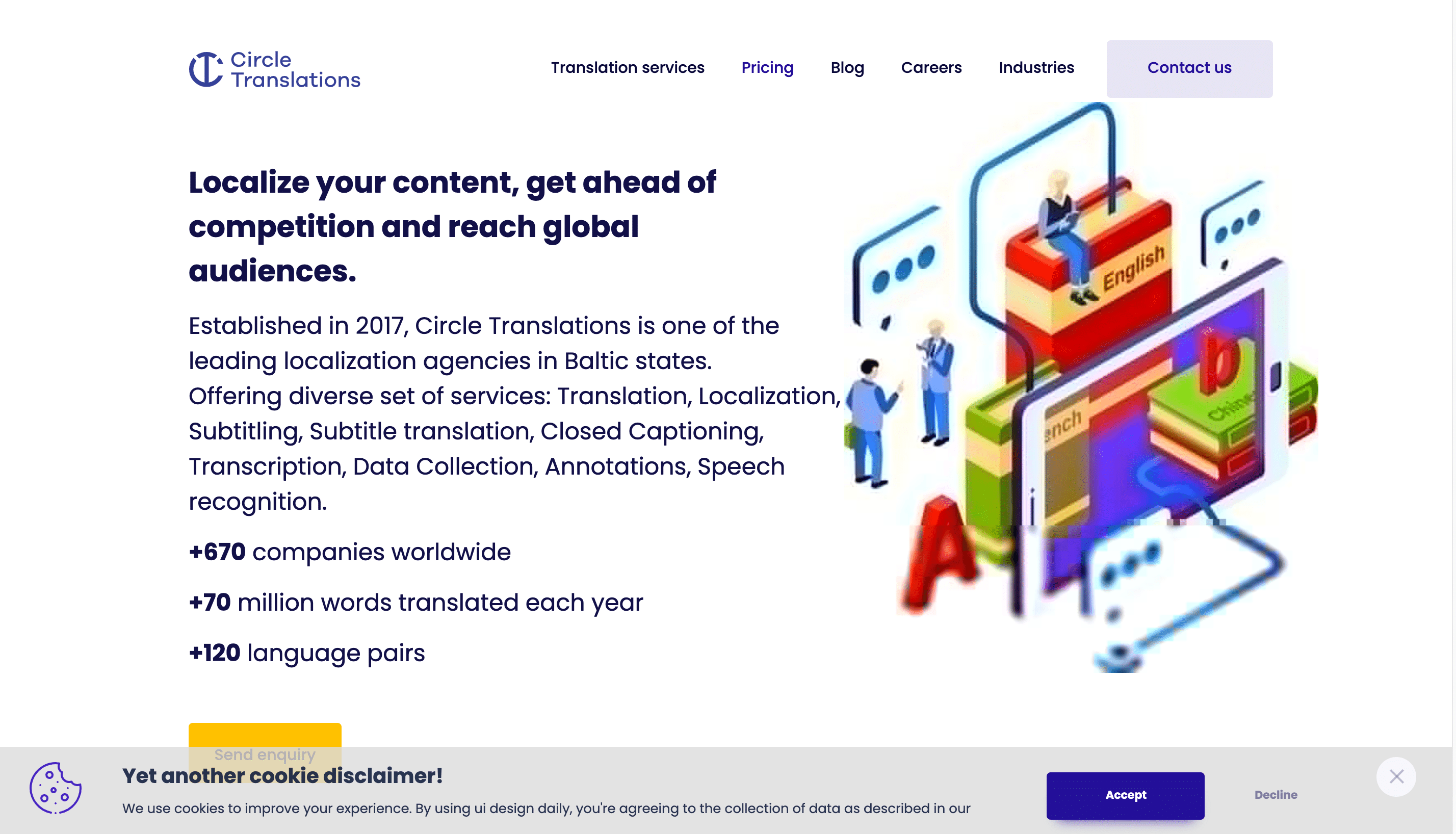 Circle Translations provide 100% human subtitling services in over 60 languages with a quick turnaround time.
Their video translation services include:
Transcription
Subtitling and Closed Captioning
Subtitle translation service
Circle Translations work with an extensive network of knowledgeable and experienced subtitle translators to deliver high-quality translations.
Also read: Reduce Localization Costs: 6 Simple Tried & Tested Ways
How to choose the right subtitling company?
The right company can be different for different businesses. However, while choosing from the many subtitling companies, here are a few factors you need to consider.
Certification
When choosing a subtitling company, look for those with an ISO certification. While many businesses have an ISO 9001 certificate, note that an ISO 17100 certification is given specifically for translation and localization services. This certification is an indication that the company has a robust translation process and guarantees quality and accuracy.
Language
It is necessary to check the language options available in different subtitling companies to see if they provide services in the languages you require. Not all subtitling companies offer services in all languages, so make sure the company you choose offers services in the language pairs you need.
Video Formats
Some subtitling companies only support certain video formats, while others support all video formats. It is crucial to check with the company beforehand to ensure there are no discrepancies later on.
Dedicated Team
When choosing a subtitling company, consider whether they assign a dedicated team to your project with a project manager. This ensures a smooth process flow and effective communication, as the dedicated team working on your project can focus solely on your project's needs.
Native Translators
The subtitles can resonate with the audience only when the language flows naturally and is adapted according to the cultural nuances. Only native translators understand the language and cultural nuances and can deliver more accurate and organically flowing subtitles.
It is essential to choose a subtitling company that employs native translators having a minimum of four years of experience in the subject matter.
Cost
Subtitles are generally charged per minute, and the rates differ for each language pair. Further, the rates may increase depending on the complexity of the subject matter. So, before partnering with a subtitling company, always ensure your budget aligns with their prices.
While cost is a significant factor, it is worth spending more on high-quality translations rather than paying for revisions or having to start over.
Considering these factors, you can choose the right subtitling company for your needs and ensure that your subtitles are high-quality, accurate, and culturally adapted to resonate with your audience.
Also read: Localization & Translation Costs: Breakdown Of Factors Involved
Conclusion
To make your content more accessible to viewers across the globe, adding captions and subtitles can be very beneficial.
However, it is crucial to get your subtitles right for your audience to resonate with your content. So, it is essential to partner with the right subtitling company that looks after the process from start to finish.
All subtitling companies have their unique processes, benefits and drawbacks. Using this guide, you can choose the subtitling company best suited to your requirements.
Contact us to get started on your subtitling project.
Also read: Top 10 Translation Companies In India
Make your video content resonate with audiences around the world
Milestone Localization can help your audio-visual content resonate with audiences across the globe with our professional subtitling and closed captioning services in 70+ languages.