professional
Subtitling Services
IN SPANISH IN RUSSIAN IN CHINESE IN JAPANESE IN 70+ LANGUAGES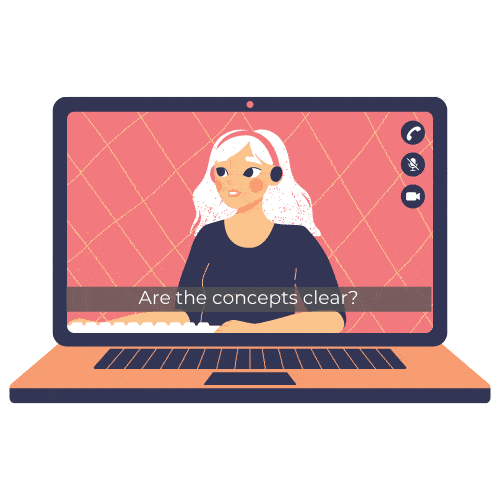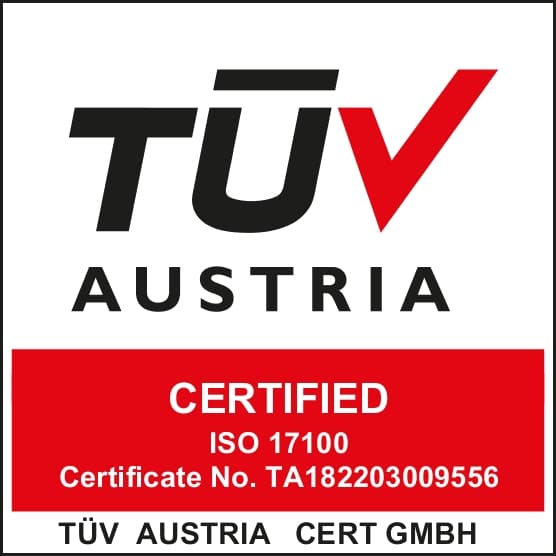 ISO 17100:2015 Certified Agency

Video Translation services for
Corporate Training Translations
Movies & Documentaries Captioning & Subtitling
E-Learning Localization Service
Youtube & Vimeo Video Translation Services
Web Series & TV Shows Subtitling
Cartoon & Explainer Videos Subtitling Services
Captioning Vs Subtitles – Know the difference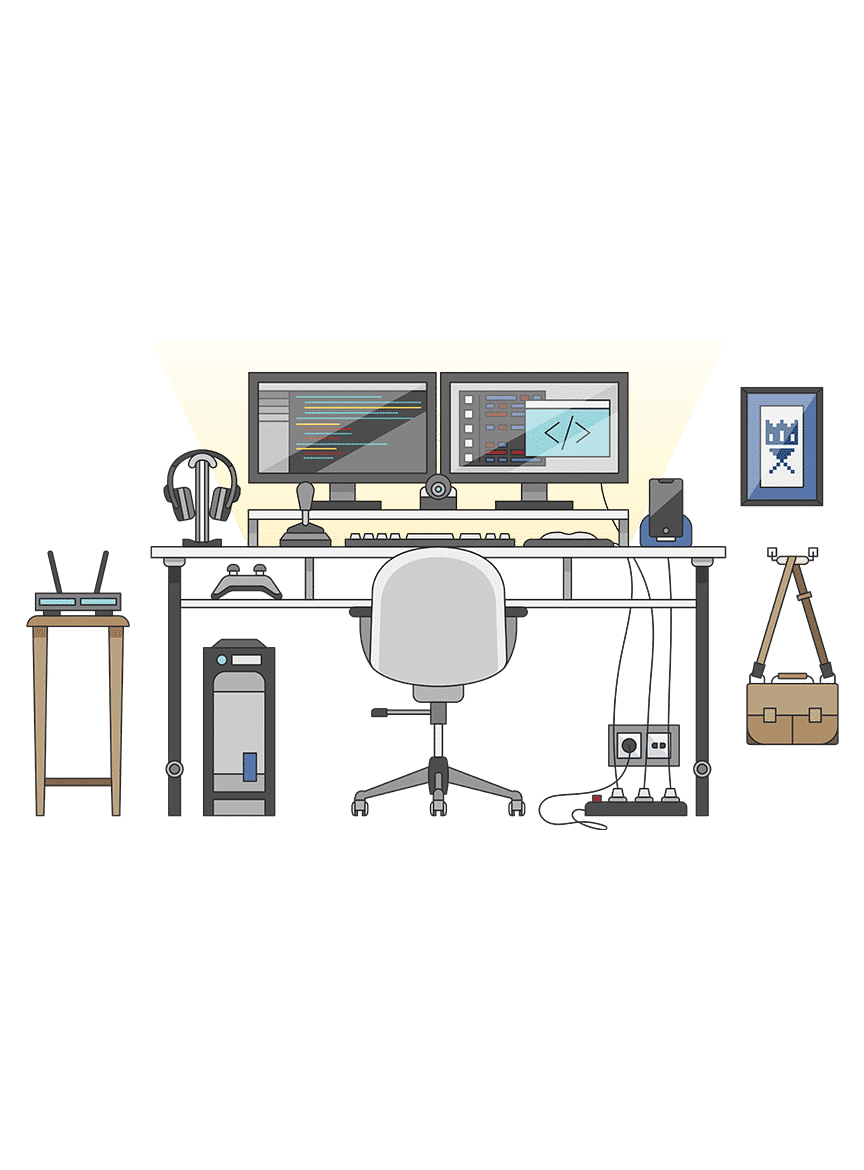 Subtitling Services
Our linguists work diligently to adapt your script to the target language to maintain tone, style, and consistency. We choose transcriptionists who are native speakers and possess the expertise to ensure the accuracy of subtitles. We provide subtitling services in 70+ languages.
Closed Captioning Services
Our closed captioning services make your content easily accessible to people with hearing disabilities. Our transcriptionists have an eye for detail and carefully consider audio tones, words and sound to convey the scene such that every audio element is understood.
Get Accurate Video Translations & Subtitling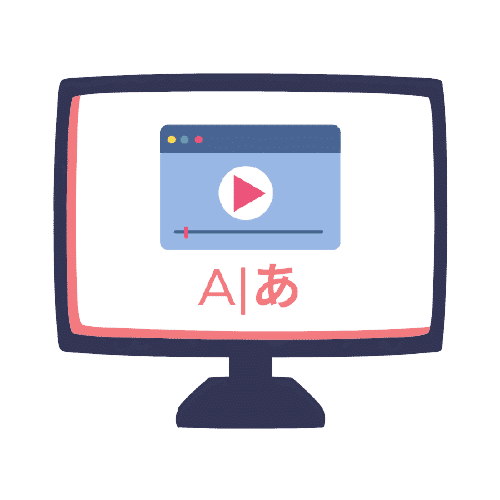 Video content is king! From short ads and infomercials to documentaries and eLearning courses, video is the most effective way to reach and connect with people. 
Engage worldwide audiences with confidence by choosing our subtitling, transcription & translation services.  
Our cutting-edge video translation solution makes your video subtitling easy and reliable. We offer a combination of human services and machine intelligence for better quality and faster turnaround times.
Subtitling services for All Video Formats



subtitling for all video programming formats
Avid DS Subtitle File (.txt)
Quicktime Timed Text (.qt.txt)
Spruce Subtitle File (.stl)
Why Translate Your Subtitles?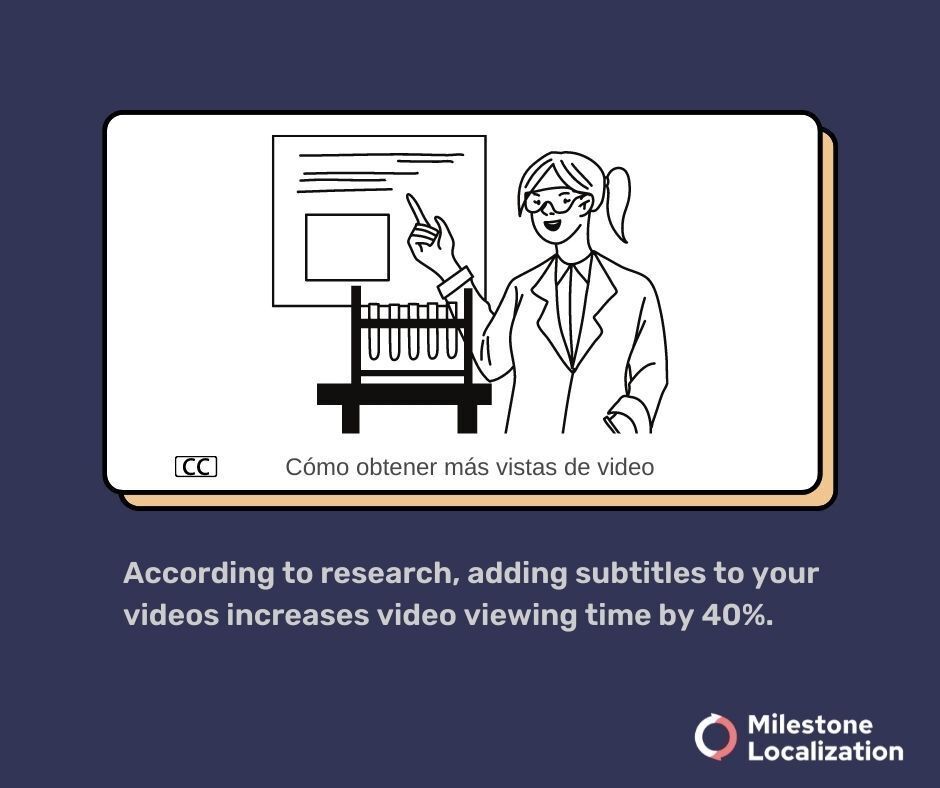 Reach wider international audiences
Increase the accessibility of your videos
Easy and effective solution to provide multilingual content
Gain an advantage over your competitors
Cater to the needs of your customer and increase customer satisfaction
SRT subtitle translations services
A popular way of translating subtitles is to generate .SRT files. This layout is supported by most software programs and is easy to integrate with different video formats.
SRT files are text files with time codes for different captions. When we translate SRTs, the time codes are maintained and text is edited. Based on the video format, care is taken to maintain character length so the sentences fit well on screen.
In SRT subtitle translation, our audiovisual translator would create converted the captions in the target language directly from the resource video clip or from the script supplied.
Captioning Services in  70+ languages
We have professional native translators, transcriptionists, voiceover talent, and subject matter experts in over 70+ languages. We can localize your audio and video materials with quality and speed in all major languages.
Chinese Captioning Services
Hindi Captioning Services
Spanish Captioning Services
French Captioning Services
Japanese Captioning Services
Arabic Captioning Services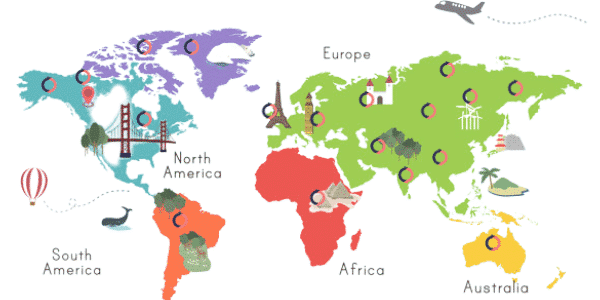 ISO 17100:2015 CERTIFIED AGENCY
Milestone Localization is certified by the International Organization for Standardization (ISO) for having in place strong security of information and quality management systems for "End to end translation and localization services."
We consider the ISO 17100 certification important and demonstrate our commitment to the needs of our customers worldwide. 
Captioning & Subtitling Process 
Book A Meeting With Us
Once you fill out the form, our team gets in touch with you for clarity on your requirments and target languages. 
Dedicated Team
After quote confirmation, you get a dedicated project manager and team working on your project.
Review & Submission
We submit the project for your review after it has been reviewed by our project manager and proofreader. 
98% OF OUR CLIENTS SAY THEY WOULD RECOMMEND OUR SERVICES TO A COLLEAGUE
"When it comes to Translation Services, there are a number of companies that talk a good game, but Vinit and his team from Milestone Localization make it happen! They have facilitated Central Test to advance on projects effortlessly and on time while providing quality services. They take this further by accepting and implementing recommendations whilst upholding a personal connection with us." 

"We have been working with Milestone Localization for over a year now and the experience has been great. The team is prompt in delivering the final content, extremely understanding & supportive in accommodating last-minute changes, and always eager to suggest improvements. It's a pleasure working with them." 

"I would like to take this opportunity for thanking your entire team for a great turnaround without compromising quality on the recent B

ranchx

project. Your team's dedication and hard work on the project despite the multiple iterations requested is commendable without which we would not have completed the project on time. Thank you again for the extraordinary support and looking forward to working with your team in the future."

Our Commitment, Quality & Promises 
Get an Instant Quote
Experience our commitment to deadlines even before we start your project
99.9% Accuracy and Top Quality
We use the best linguists and latest technology to ensure translation quality
On Time Delivery- Every Time
We promise to deliver on time. Get 10% off each day delayed if we can't keep our promise
Case study on subtitles translation
Nurture Farm
Subtitles Translation
nurture.farm is an open, digital platform for agriculture that offers integrated solutions – farm mechanization services & advisory, an agri-input e-commerce marketplace, financial solutions, and market linkages – to secure sustainable outcomes for the entire ecosystem.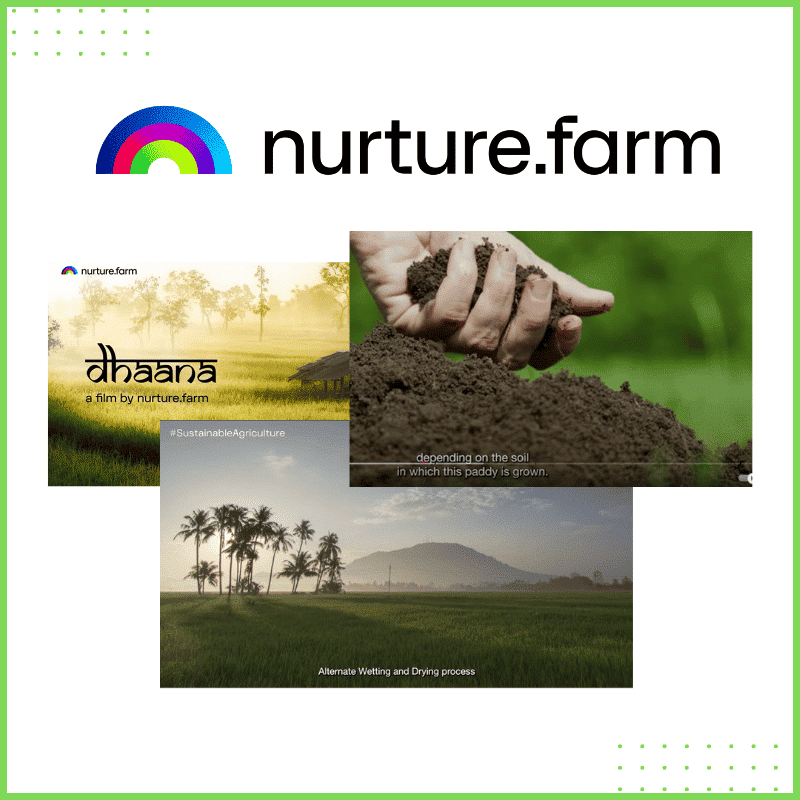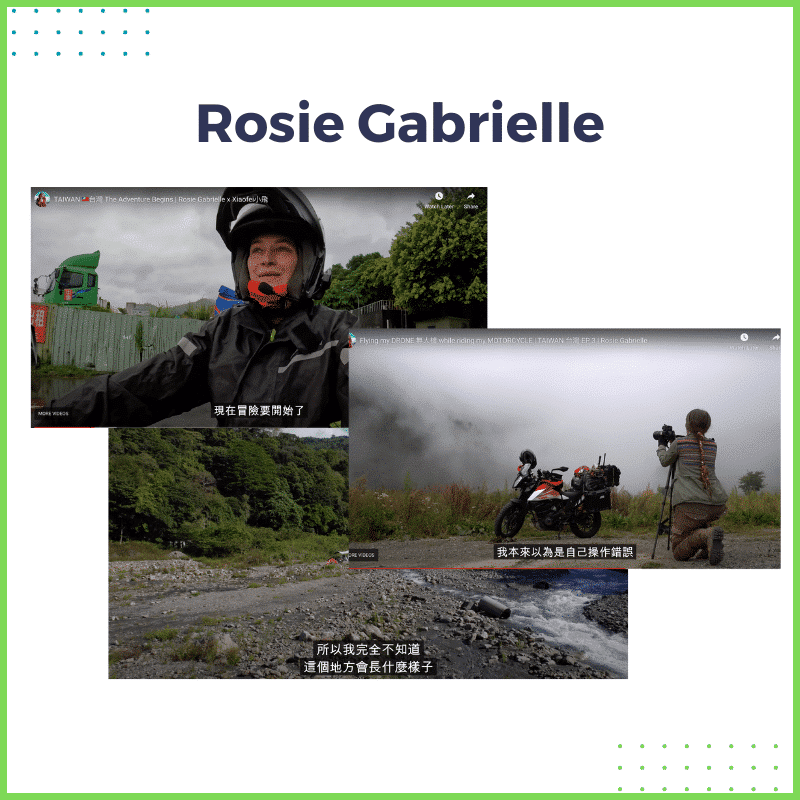 ROSIE GABRIELLE
Subtitles Translation
Rosie Gabrielle is a solo female motorcycle adventure traveller, photographer and YouTuber. She documents her experiences on her YouTube Channel which has over 642K subscribers and millions of views from across the globe.
A CHICK CALLED ALBERT
Subtitles Translation
A Chick Called Albert is a YouTube channel documenting animal and bird-hatching adventures. Created by Alwyn Wils, the videos are mostly about him hatching, raising and rescuing various birds and animals. The channel currently has over 110 videos and 3.35 million subscribers from across the globe.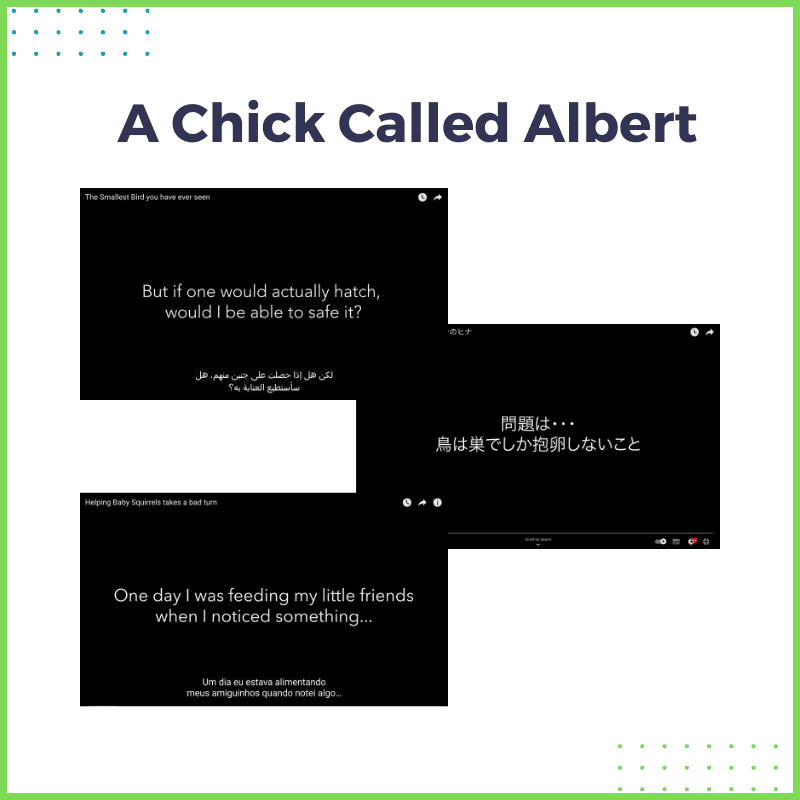 WHAT OUR CLIENTS SAY ABOUT US
Rosie Gabrielle shares her experience working with Milestone for subtitle translations for her Youtube videos.
Let's Grow Your Video Views & Engagement
Our team is ready to help you with your subtitling & translation needs.
More on Subtitling Translation services
Why Video Translation Is Worth It.
85% of internet users watch at least one video per month in the U.S. alone. Customers are 4 times more willing to watch a video presenting a product than to read about it.  In order to reach more viewers, you will need to adapt your content to their native languages.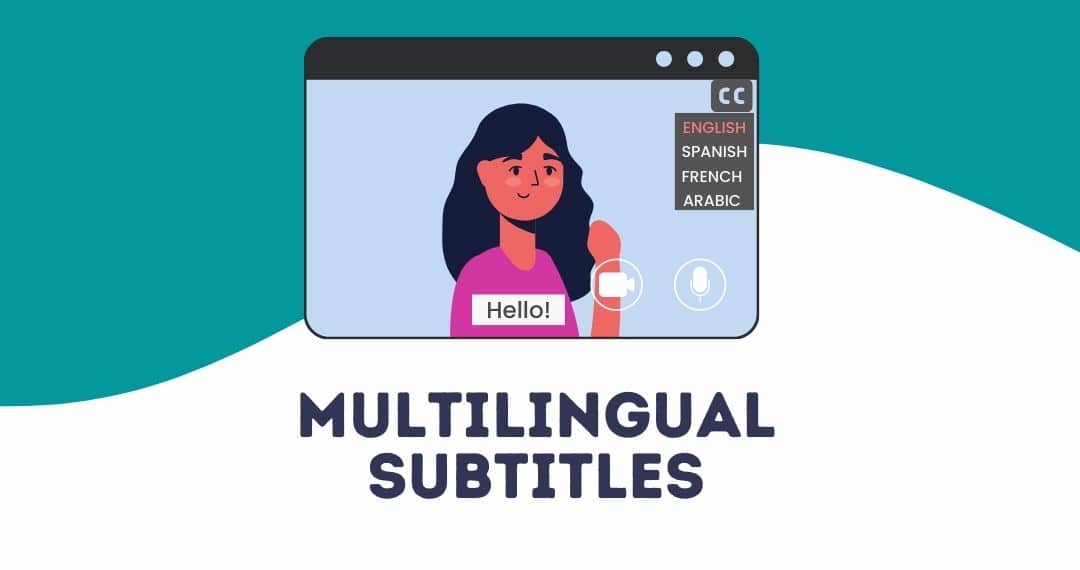 Multilingual Subtitles For E-Learning Videos
e-learning platforms have become the most popular way of gaining new skills and expertise. However, due to the many players in the market, e-learning video producers might find it hard to get ahead of the competition, read more on how multilingual subtitles can help. 
FAQS ON SUBTITLING SERVICES
What is the difference between subtitling and transcription?
Subtitling is a process where the spoken content in a video is translated into timed texts in the target language.  Subtitles are displayed to the viewer on the same screen as the video content so that they can be read along with it.
Transcription is the word-to-word conversion of the audio into written text in the source language and does not have any time code associated with it. It can be done for audio and video formats.
How do you maintain the confidentiality of data?
Maintaining confidentiality of the data is of utmost priority to us. We have strict non-disclosure agreements and policies to ensure confidentiality and data security.
How much do you charge for subtitling services?
The charges for subtitling translation services differ for each project based on the language pair, file format, type of content and more. Subtitles are typically charged per minute. Get in touch with us to get a free quotation.
How do you guarantee the quality of subtitles?
We only work with experienced subtitlers having domain expertise and leverage the latest technology to deliver high-quality and accurate subtitles.
All our transcription and subtitled content go through a quality assessment to ensure accuracy.