Is video translation worth it?
During the 2016 Mobile World Congress in Barcelona, Mark Zuckerberg pointed out that people were no longer mainly consuming content in the form of pictures and text. Internet platforms were gradually moving towards a new form of content – video.
According to Oberlo, up to 85% of internet users watch at least one video per month in the U.S. alone. What's more, around 55% of users would like to consume more video content from their favourite brands as part of their marketing campaign.
The rise and rise of TikTok and Youtube
TikTok's recent surge in popularity has made it the most popular website on the Internet, beating even Google. Founded in 2016, the video platform has become well-known as the favourite social media of teenagers.
Now it is as popular among teachers, parents, doctors, and even big brands are using it as part of their marketing strategy. The New York Times even named the video platform "the holy grail of marketing".
Video-sharing platform YouTube has become the second-most popular social platform, hosting over 2.5 billion active users. In addition, many people nowadays earn a living by creating video content on the very same platform.
For instance, Nate O'Brien whose channel deals with personal finances management has 1.1 million subscribers. In a year, he has earned up to $444,000 in ad revenue.
Even influencers with a much smaller audience can earn a decent amount of money. For example, Nano influencer Jen Lauren has only 1,900 subscribers on YouTube. She has reported in front of the Insider that she has earned nearly $200 in a month.
One of the key factors contributing to their success is the strategic use of video tools and systems. For instance, conducting effective video surveys through platforms not only aids in channel growth but also improves engagement by better understanding viewer preferences and feedback.
And while YouTube has become a real game-changer for many independent content creators, the platform has turned into a powerful marketing tool and is now the most popular content marketing format.
Also read: Subtitles vs Closed Captions: Everything You Need To Know
Today, the most popular types of videos are:
Product Review Videos
How-To Videos
Vlogs
Gaming videos
Comedy/ Skit videos
Haul videos
Educational videos
Unboxing videos
Challenge videos, etc.
Videos offer customers a lot more than simple text or a picture. A video can give customers valuable insight or a quick explanation. Not to mention that this form of media is much easier to consume.
In fact, customers are 4 times more willing to watch a video presenting a product than to read about it. What's more, marketing-related research has found that customers are very fond of their native language:
72.1% of consumers prefer websites in their own language.
72.4% of consumers stated they would be more likely to buy a product when all information is provided in their native language.
56.2% of consumers claim that they value access to information in their native language more than price.
If we apply this data to videos, it becomes clear that in order to reach more viewers, you will need to adapt your content to their native languages. English, as it appears, is not the best option as well since this would not be enough to gain considerably more views.
Why should you translate video content?
Have a look at the following statistics:
The top ten languages accounted for 76.9 per cent of global internet users. Interestingly, less than 26% of internet users speak English. You cannot deny that this is a very small piece of the pie. According to Statista, these are the most common languages on the Internet:
As you can see, videos have a bright future, however, reaching new international audiences appears to be a key factor in gaining more views.
Thus, if you are a video content creator or simply want to step up your video content game, you should consider translating your videos.
Wondering whether it is worth the investment? Keep reading and you will learn why video translation is totally worth it!
Also read: Everything About Multilingual Subtitles For eLearning Videos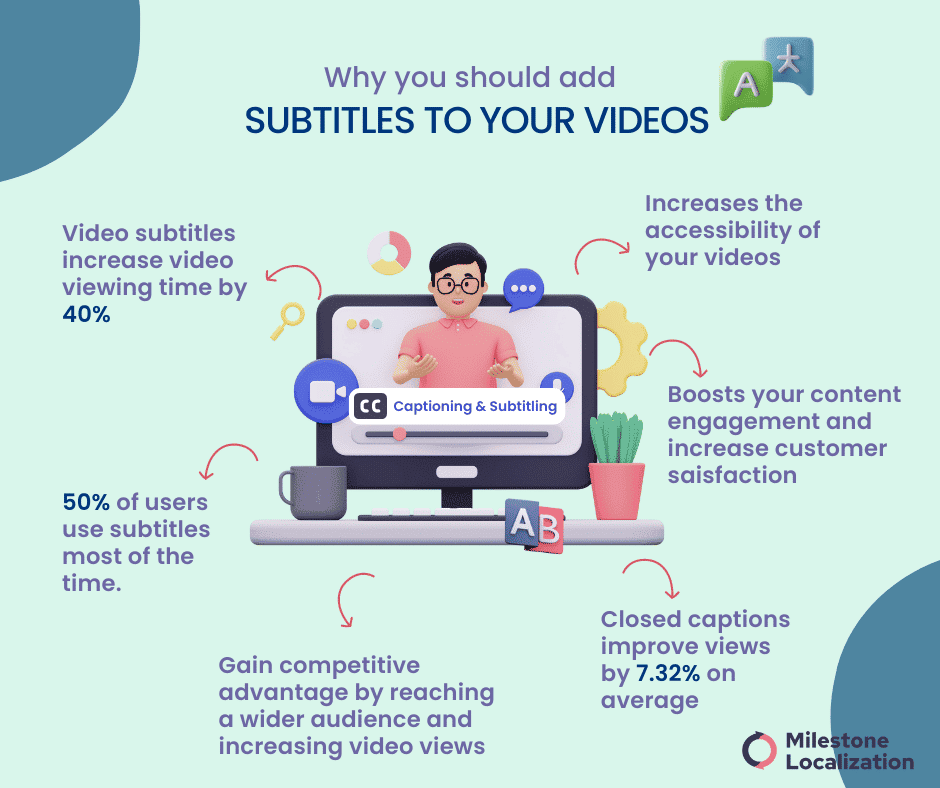 Why video translation is a crucial part of your content strategy
Let's start with the benefits of translating your video materials. Overall, there are three main benefits of translating your videos:
Boost your Organic Reach: Organic search is among the best ways for audiences to reach your content. By adding captions in different languages to your video materials, you will allow search engines to crawl everything that was mentioned.
This in turn will significantly increase the chances that your video appears in multilingual searches. What's more, translating your videos will add more diverse keywords, which will improve your ranking.
Boost Engagement: Adding subtitles and transcriptions to your videos will inevitably boost your engagement and viewing time. According to research from PLYmedia, adding subtitles to your videos would increase your video viewing time by an average of 40%.
Improve Return of Investment (ROI): While creating videos is a time-consuming task, video materials add great value. Why? It's simple – they can be reused on multiple channels such as YouTube, your blog, your social media, your website, etc.
Always provide transcription of your videos since this will inevitably boost your SEO ranking. In addition, a higher SEO ranking means more customers on your webpage. This in turn will lead to higher sales.
It is important to point out that Latin America and EMEA have become the biggest video consumers in the world. If you want to reach these markets, translating and subtitling your videos in the local languages will help you boost your views, search rankings, and engagement.
Also Read: Doing Business In The Middle East: Cultural Differences You Need To Know
Reach viewers around the world with our video translation services
We provide professional subtitling, closed captioning, voiceover and transcription services in 70+ languages. Get in touch with us for a special discount.
Main Aspects of Video Translation
Video translation is the process whereby the content of your video is transcribed and translated into a new language. The main aspects are:
1. Creating subtitles
2. Transcribing the video
3. Doing translated voice-overs
4. Dubbing audio
5. Translating on-screen text
It's important to understand that video translation does not only consider the audio elements of the video. As we all know, videos oftentimes contain text as well as graphs or tables. All these elements could be translated.
All in all, video translation aims to make your video materials accessible to other international customers which in turn will boost your views and engagement.
How to translate a video? Video Translation & Subtitling Process
1. Transcription: The translation process starts with the transcription of the video. This includes not only spoken text but also any on-screen text.
2. Translation: Then the transcription is translated into the target language in text format.
3. SRT files: Once everything is translated, all the text is hard-coded into subtitle files, called SRT files (SubRip Subtitle File). This type of file includes information about the subtitles such as the time codes of the text and the sequential number of subtitles. However, SRT files do not include audio or video files – only the subtitles.
Later on, SRT files are read by the media players, and subtitles or captions are displayed on the screen.
If you want voice-overs in your videos, voice actors read out loud the translated text and record it. In this case, the recording is built into the video itself.
4. Timestamps: Translation files are not enough, though. So that subtitles, captions, or voice-overs run in sync with the video, you need time stamps. These are created by video editors and ensure that everything is displayed on time.
5. Video editing: This is the final step of the video translation process. All the translated files are integrated into the video using an online video editor. Such editors offer a user-friendly video trimmer and video converter. With these features, you can easily edit your translated content and create a seamless viewing experience.
As a result, you could either have a single video file for each language or include a section menu through which users can choose their language on their own.
Keep in mind that depending on your needs, software, and language, this process can vary.
Also Read: Speech Transcription for AI: Why We Still Need Humans
Creating Your Video Translation Strategy
There are three main aspects you need to take into consideration before you begin with the translation of your videos – budget, purpose, and audience.
Budget: Your budget is a crucial aspect of your video translation strategy. Contrary to most people's expectations, having a lower budget does not equal failure.
For instance, if you have a limited budget you could invest in only subtitling your video. Any on-screen text or audio will remain in the source language. However, having subtitles in the target language will be enough for your international clients to understand the ideas of your video.
As your budget grows, you will be able to invest in dubbing your videos and translating on-screen text.
Purpose: In other words, what do you intend with your videos? This aspect will help you decide on the tools that you could implement in your translation strategy.
For instance, if you produce simple how-to-doit videos, automated translation for subtitles might do the job for you.
If your videos' purpose, however, is to convey specific ideas or feelings, then you should invest in human translation.
Audience: Last, but not least, think about your target audience and what they would expect from your videos.
Also read: Importance and Benefits Of Corporate Training Localization
If you produce educational video materials for kids in kindergarten, then providing subtitles for your videos wouldn't be enough, since most children at such a young age are not able to read yet.
In such a case, you will have to invest in dubbing and, if needed, translation of the on-screen text.
All in all, these three aspects will determine your overall video translation strategy. You have to carefully consider each one of them in order to make the next step – contacting a professional translator and getting down to work.
Also read: Top Translation Companies In The UK: How To Choose The Best One? 
Reach viewers around the world with our video translation services
We provide professional subtitling, closed captioning, voiceover and transcription services in 70+ languages. Get in touch with us for a special discount.
Solutions to common video translation challenges
If you plan to translate your video materials, then you should better create them with this in mind. Here are a few tips on how to overcome possible translation challenges.
Text expansion: If long sentences of text appear on your video, this might cause some serious trouble when translated due to text expansion. What's more, when text expands, dubbing and synchronization of subtitles and captions become very difficult. Therefore, you should keep the text short and simple to avoid such implications.
SRT files and Right-to-Left Languages: When you create subtitles for languages written from right to left (such as Arabic and Hebrew), the program might reverse the text (e.g. ('olleh' instead of 'hello').
Working with professionals would ensure that there are no such issues with your subtitles. Well-trained experts know how to set up the SRT file properly so that the subtitles are displayed correctly.
Long text: When the subtitles are too long, they take up space on the screen and might cover some important information in the video. In addition, long strings of text might make it difficult for users to read the whole text.
As a rule of thumb, there should be two lines of text on the screen at most. Make sure that the text stays long enough to be read.
Simple sentences: Long, complex sentences are too hard to translate. What's more, longer sentences could also lead to disconnected timing of the dubbing track and the on-screen text or subtitles.
Thus, you should write your video script with shorter sentences and a simpler structure (e.g. active voice).
Neutral language: Avoid using slang, jargon, and other cultural references that might confuse your international audience.
Enough time: Give yourself enough time to properly translate your video. Rushing the translation process will only lead to stress and errors.
So, make sure to set reasonable deadlines. In this way, you will have enough time to finish everything on your video translation project.
Also read: 7 Reasons To Work With a Translation Agency On Your Next Project
Video Translation Best Practices
There are many things that could go wrong with video translation, so here are a few simple tips on the best practices. These will help you approach the video translation process much easier!
Contact professional video translators: Working with a professional is always a big investment, which eventually pays off. A professional translation agency like Milestone Localization can handle every aspect of the localization process for you- from transcription to mixing.
Consider the languages you want to translate to While this seems like a very straightforward task – just picking a language or two – it is not. You have to do your research and decide which language will be the best decision for your niche. For instance, if you produce comedy video content, you might as well invest in translating your videos into Spanish since this is the second most-watched type of video in Spain:
Also Read: Top 6 Languages For Your Business
Determine the aspects of your video that you want to be translated: Depending on your translation strategy, you might want to go all-in or start small. Whichever approach you choose, depends mainly on your budget, so make sure to determine clear boundaries.
In conclusion
Videos are the most influential form of content on the Internet and as such, are a great marketing tool. If you want to use the full potential of your video materials, then you should invest in video translation. This is the only way to reach new international clients and boost your views and rankings.
Don't waste any more time – get your video translated and conquer the world!
Contact us for a free consultation on your next video translation project
Reach Viewers Around The World With Our Video Translation Services
We provide professional subtitling, closed captioning, voiceover and transcription services in 70+ languages. Get in touch with us for a special discount.