Are you looking to expand your business and reach non-English speaking users?  These are the top 15 translation companies in India for you to choose from.
You can find a variety of companies- International companies with a base in India as well as homegrown companies here. They offer a range of different language services.
So if you are seeking a translation services company for your next global project, you've come to the right place!
Any of these companies are bound to obtain you great outcomes, especially the top 3 translation companies on this list.
Looking for a reliable translation agency in India ?
Milestone helps you seamlessly translate content & localize your website, products, and services for more reach, better conversions, and greater sales. 
Choose from the top translation companies in India
When people try to find translation companies, certainly, they want the very best.
Yet the very best can mean different to various people, relying on what they are really looking for.
There are thousands of translation companies in the world. We're speaking about translation agencies, freelance translators, or companies that charge you for forwarding an email somewhere else and also you pay a markup for their "services.".
Given that we've worked together with a lot of clients, we understand that a translation agency that appears to be the most effective fit at first, might not end up being one in the long run.
This article will provide the top 10 and top 15 localization companies in India
List of  Top 10 translation companies in India
1. Lion Bridge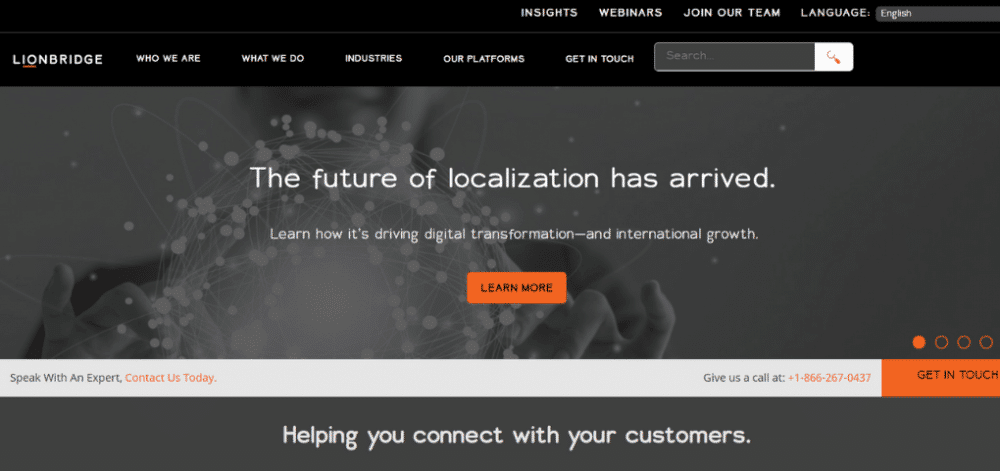 Lionbridge is one of the biggest LSPs (Language Service Providers) in the world. Headquartered in the US, they have offices around the world and in India.
They only offer services to companies. So if you're looking to translate your personal documents, they are not the right supplier for you.
They offer multiple and various types of services grouped into four main categories:
Content Services
Translation Services
Testing Services
AI Services

In each of these categories, there are several services to select from, depending upon the actual demand of the clients. They work with 200+ languages and have sales and project executives around the world.
Also Read: Localization VS Globalization VS Internationalization VS Translation
2. TransPerfect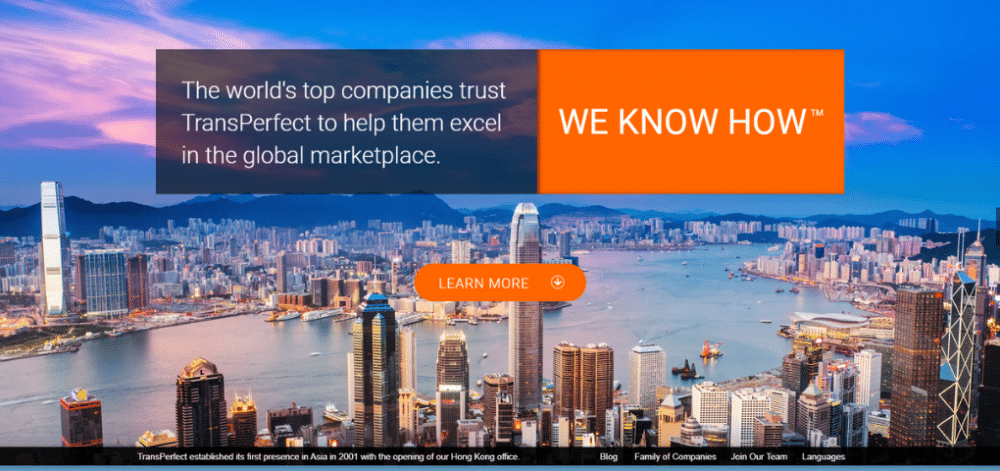 It's the largest, privately held language solutions company in the world. They have been in business for over 25 years and have offices around the world.
Services offered by TransPerfect include:
Translation
Website Localization
Multicultural Marketing
Training and E-Learning
Legal Support Services
Video game Localization

They cover various sectors from Retail and also finance to eCommerce, entertainment, and also hardware/software/technology.
TransPerfect has developed some of the leading translation and collaboration tools. They only work on bigger projects- if you have personal documents or a small project, this isn't the right fit
3. Milestone Localization
Milestone Localization is certified by the International Organization for Standardization (ISO) for having in place strong security of information and quality management systems for "End to end translation and localization services."
Services offered by Milestone Localization  include:
Operating in various industries, like Legal, Gaming, E-Commerce,  Media & Entertainment, Advertising, Marketing, PR, Automotive, Financial Services, Government, and Healthcare, they continue to play a relevant role in the language industry.
No matter where you're located and no matter where you're looking to grow, Milestone Localization is ready to work alongside you to make every Milestone successful.
We work on projects of all sizes- from a single-page document to a large eCommerce website.

Read testimonials and case studies from our happy clients here Or contact us for more info.
Also Read: We're An ISO 17100 Certified Translation Company! 
Get Professional Accurate Translation Services
Milestone helps you seamlessly translate content & localize your website, products, and services for more reach, better conversions, and greater sales.
Get in touch with us for a special discount.
4. Tridindia IT Translation Services
Established 15 years ago as an online translation company, Tridindia is among the most sought-after translation agency in India. The reason it is included in the leading 10 translation company in India is due to its professional solutions.
Translation Services
Client Services
Support
Translation Software and Tools
Tridindia is a private language service provider with its headquarters in India. 
5. Shakti Enterprise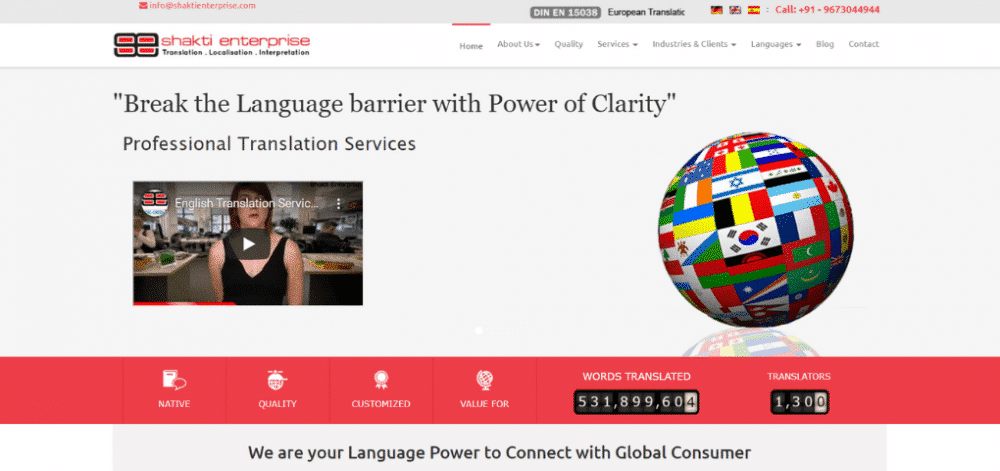 Among the oldest and most reputable translation firms in India, Shakti Enterprise has been offering expert translation and also analysis services for the last 32 years.
Services offered by them include:
Translation
Website Localization
Multicultural Marketing
Training and E-Learning
App Localization
Shakti is headquartered in Mumbai and has two sister companies- Bhasha Bharti and Beyond Wordz. They have an office in Bangalore as well. Their website is translated in 3 languages
Also Read: Translation, Transcreation, and Transliteration: What's the Difference?
6. Lisan India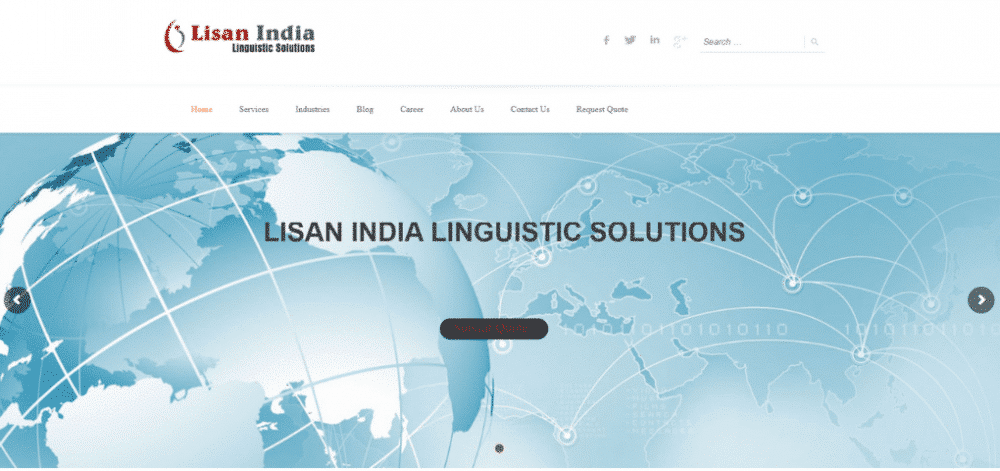 Lisan India is a top language company providing a wide variety of language-specific services to global businesses.
Translation and localization
Website translation
Document translation
Proofreading
Certified translation
Giving localization, translation, Interpretation, and also content managing solutions, Lisan India has been in the translation business considering that 2013 and also is positioned in the heart of the Indian capital, Delhi.
7. Translingua Global
Translingua Global (TGC ) is likewise among the leading translation companies in India.
Localization
Transcreation
Machine and crowdsourced translation
Multilingual copywriting
And more
Based in Mumbai, TGC has never ever allowed its geographical existence to restrict its seamless translation and analysis services, covering a range of industrial domains consisting of education, science, technology, organization, banking, society, and entertainment industries.
8. Cuttingedge Translation Pvt. Limited
Staying true to its name, Cuttingedge Translation is an exclusive and also certified translation company in India. Motivated by "water", this translation business bestows the utmost value to openness and also quality in translation, localization, desktop publishing, and analysis solutions.
Professional transcription
Minute-taking
Translation
Interpreting services
The agency translates in over 200 languages as well as has an impressive customer base consisting of big names such as Bosch, Pearson, as well as McGraw Hill.
Also Read: Reduce Localization Costs: 6 Simple Tried and Tested Ways 
9. Lyric Labs India Pvt. Limited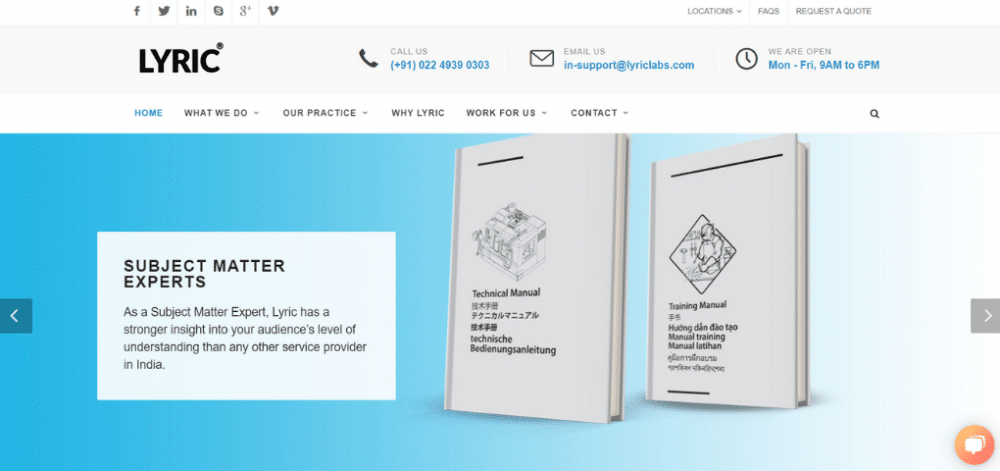 Lyric Labs India has offices in India and Singapore. They specialise in technical translations.
Translation services (different types and fields)
Interpreting services
Language training
Developed in 2005, the company relies on supplying premium quality translation services for customers coming from a wide variety of sectors and has the assistance of greater than 1500 expert linguists to make that possible.
10. Feenix Language Solutions
Feenix Language service is an ISO 9001:2008 licensed translation company based in Bangalore.
Video Remote Interpreting (VRI)
Over-the-Phone Interpreting (OPI)
On-Site Live Interpreting
Medical
Giving translation solutions to a wide variety of sectors, Feenix has a major goal of equating for clinical as well as medical care business all over the world.
Nonetheless, it covers a wide range of Asian, European, and also Middle Eastern languages as part of its translation services.
Also Read: Translation Agency vs Freelancers: Who Is Better for Your Business?
Get Professional Accurate Translation Services
Milestone helps you seamlessly translate content & localize your website, products, and services for more reach, better conversions, and greater sales.
Get in touch with us for a special discount.
11. Somya Translation Pvt. Limited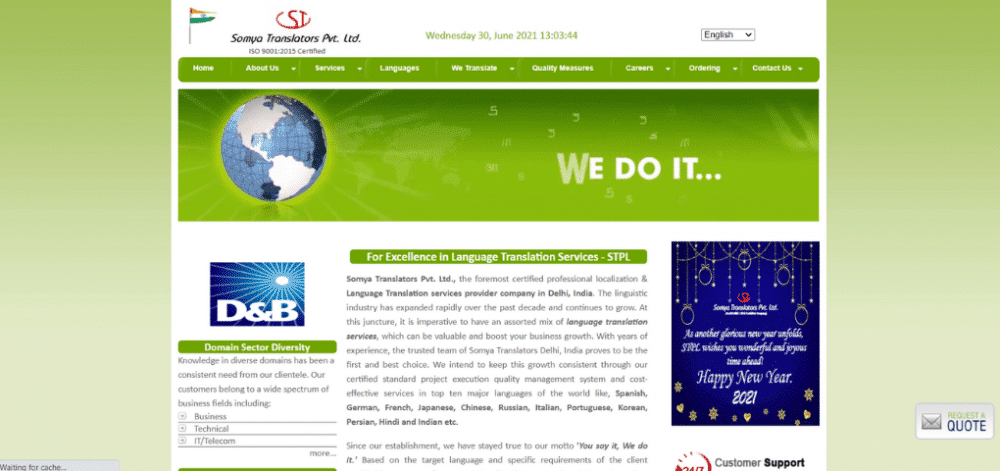 Somya Translation is a certified private translation company located in Delhi.
Localization
Transcreation
Translation 
Multilingual SEO
Having an objective of offering professional translation services to worldwide consumers, Somya has supplied numerous translations in over 100+ language pairs given that it's beginning.
12. Linguainfo Language Translation Company
Linguainfo is an additional credible name in the organization of the leading top 10 translations companies in India. 
Established ten years back, Linguainfo supplies extensive translation options to international businesses belonging to different industries including automobile, electronic, life sciences, production, and retail.
13.

Advika Translations
Advika Translations is ISO 9001:2008 licensed company that was established in 2001. Since the beginning, it has maintained high expert standards and also has actually made popular because of its rich experienced and unmatched top quality services.
Many large, as well as international firms, have actually taken their services which have actually contributed to their integrity and popularity. Along with a variety of various other solutions, they additionally offer licensed translations. Professionalism and responsive client care make this company a great option for a hassle-free experience.
14.

Institute of Universal Languages and Education
Institute of Universal Languages and Education And Learning is an additional ISO authorized institute that uses top-notch translation services for a lot of foreign languages. 
MRO

media

healthcare

Information technology

 
Manufacturing, etc
It has actually a very trained and experienced group of local translators that provide top quality results as per the demands of the clients.
Along with language options, it also provides training and aids the pupils to learn various languages.
15.

Shree Language Services
Shree Language Services is a Bangalore-based ISO certified company that provides language solutions to lots of global firms. Like the majority of the well-established as well as known service providers, it also covers a variety of industries that includes:
Technological
Medical
Finance
Law
Scientific research study
and a lot more.
It specializes in document translation, and also the core values include confidentiality, punctuality as well as economic cost.
The business has a knowledgeable team that works with certain interest to information for ensuring client complete satisfaction.
How to decide which translation company is the Right Match For You?
Here are a few things to keep in mind when choosing the right translation company based on your project and quality requirements-
ISO 17100:2015 Certification
If you are working on a complex project and require top quality work, work with an ISO 17100 certified company.
While most companies have the general ISO 9001 Certification, the 17100 certification is specific to translation services.
Working with a certified company can guarantee quality, best procedures, on-time delivery and professional service. There are only around 7 ISO 17100 certified companies in India- so make sure they have this certification before you confirm your project!
Native Speakers with Translation Experience
When choosing a company, make sure they only work with native speakers or the target language. This means that a translation to German should only be done by a native German speaker- not an Indian who learnt German as a second or third language
For a translation to flow naturally and capture regional nuances, the translator must be a native speakers with at least 5 years of experience. Otherwise, the translation can sound unnatural.
You can ask for a masked resume of the translator to ensure they are native speakers and have suitable experience to work on your project.
Also Read: 7 Reasons To Work With a Translation Company on Your Next Project
Proof Readers and Editors in the Process
The translation procedure is never ever just a translation. It is a three-step procedure:
1. Translation: the conversion of the file from one language to the other.
2. Editing: modifications and also editing the translated document.
3. Proofreading: checking for any mistake or mistakes in usage, grammar, or sentence structure.
Otherwise known as the TEP procedure. It is very important to ensure that the translation company has the procedure in place i.e. they provide editors, as well as proofreaders to go through the translation prior to it, is returned to you.
Cost/per word rate
Ultimately, there is the last essential to consider making a decision the very best translation business for you.
Quality and cost usually go together. If a company follows all the processes needed to guarantee a quality translation, this will be reflected in the price.
Its better to pay more for a translation now than to lose business and tarnish your reputation with a bad translation.
Also Read: How To Recruit The Right Translator
Conclusion
The translation service is becoming a key to success. And also it is important that you obtain just the best professional translation services for your organization.
The translation industry is big and confusing. Finding the right agency to work with from so many options of translation businesses can be confusing. 
Every company is unique – use this guide to find the company most suitable for you project and budget. Contact us to see if we're a good fit for your next project.
Get Professional Accurate Translation Services
Milestone helps you seamlessly translate content & localize your website, products, and services for more reach, better conversions, and greater sales.
Get in touch with us for a special discount.