Are you an app developer or marketer?
Do you want to increase your app's MAU (monthly active users) as well as its visibility?
You can achieve reach new markets and users through app localization.
Offering your product in the user's native language would significantly increase your downloads and subsequently your revenue.
According to Distomo's study, "The Impact of App Translations" localized apps increase their downloads by 128% while their profit rises up to nearly 30% for each country in just a week!
According to Oberlo, in 2022, the number of global smartphone users worldwide is estimated to be 6.6 billion. It is 79% more than the number of smartphone users just 6 years ago.
This is why you should localize your app to reach these users and grow your business!
Why Should You Localize Apps?
Localization is a costly service and therefore, one should carefully think it through before investing in it. Generally, it is hard to estimate the return on your investment.
Localization can also be a necessity when expanding your business into new markets. A 2011 study from the European Commission among 23 European countries showed the following:
Over 70% of Internet users spend most or even all of their time on websites in their native language
Nearly 75% of users claim that if the information about a product is in their own language, they are more likely to buy it.
Over 55% of the users on the Internet state that they value the ability to obtain information in their native language more, rather than the price.
Also read: 6 Reasons Why App Localization Matters For Global Success
App Localization Process: 6 Simple Steps
In this article, we will present you with six simple steps for mobile app localization, which are applicable to both iOS and Android.
1. Internationalization (i18n) and Localization (L10N)
These two terms are oftentimes considered the same thing. In fact, these are two completely separate operations, still, they are fairly dependent on each other. According to W3C, "internationalization includes several processes which ensure that the design and development of a product would simplify the translation or localization process."
In other words, through Internalization the code is customized while through localization the content that undergoes modifications in different languages.
The reason why internationalization should be done prior to localization is simply to ensure that the code could handle the new localized content when it is created. In most cases modifying the code for internationalization after it has already been written is a long and complicated process.
2. Find A Good Localization Partner
It is best to leave localization to the specialists who know how to transform your app so that it feels native to customers. You shouldn't choose a service provider based on lower prices but rather chose an agency that fits your expectations and goals.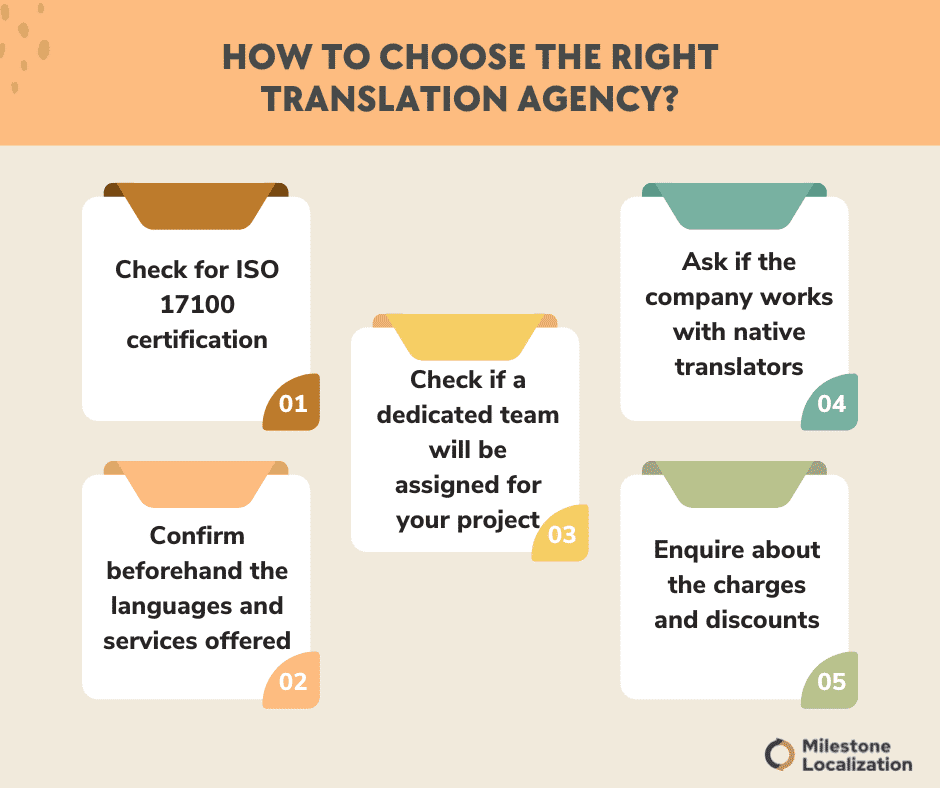 Here are some questions you can ask to find the most suitable localization service provider:
What localization tools and platforms does it uses?
Are your translators proficient in translating app content?
How quickly do they provide the translation?
What is the company's quality control process?
Have they done similar projects in the past?
A bonus tip: After you have found your partners on your localization journey, make sure to give the localization team sufficient context to create a clear idea of your concepts. 
Also read: Top 10 Translation Companies in the UK: How To Choose The Right One? 
3. Create an App Store Optimization (ASO) Plan
A good ASO plan will help increase your app's visibility and downloads on App Store and Google Play.
To devise a good ASO plan you should research your target market: analyze the correct search terms (in the local language) in this region as well as the search behaviour of the population.
Then based on this research create a list of keywords which in turn would help you optimize your product's name, subtitle, description, and keywords. This step is essential since when done properly, it would increase your app's ranking in the search results, number of downloads, and revenue.
This is a crucial step to success in a new market. There is no point in localizing your app if potential users can't find it!
4. Choose Your Audience
The Google Play and App store are available in over 150 countries. App localization can be a long and costly process, so you should choose your audience wisely to ensure maximum return on your investment. Just because a language is popular, it does not guarantee success. Therefore, you should do thorough research to decide in which region market your app would fit best before you invest in localization.
For this, you should do research on the audience in different countries: spending ability, internet penetration, number of smartphone users, average internet speed, English tolerance, Android vs iOS users and potential competitors.
This will help you decide how much you should initially invest in adapting the app to test the market.
Also read: 11 Elements To Consider For A Successful Localization Strategy
growth in global app downloads- 60%

Global App Revenue from Asia – 41%

Potential Increase in revenue per country – 26%

English Speaking Internet Users – 25%
Make your app accessible to users across the globe
Milestone helps you seamlessly translate content & localize your app in 70+ languages
5. Localize Every Aspect of Your App
The main goal of app localization is to grant users a unique experience as if the app is created especially for them. To achieve this, you should think of other aspects of your app besides just the text.
For instance, you should consider whether your target audience would require multimedia localization for your app or in other words – you need to change the visuals like videos, images and colours to fit your potential customers' preferences.
Basic features such as date format, currency and numbers make a huge difference to the customer experience.
To create the perfect experience for new users, pay close attention to certain cultural differences. For instance, if you are launching a discount campaign make sure you understand how discounts work in a specific country. Discounts in China work the other way around compared to Europe – they show what you are paying not what you are saving.
Black Friday banners running in France, Germany, and China:
6. Do Linguistic Testing
Linguistic testing should be the last step before your app goes live. This is a process whereby a linguist reviews your product in the context of a local user and takes into account not only the language aspects such grammar, dialects, language standards and rules but also examines closely colour schemes, font sizes, symbols, images and icons, estimating whether they are used appropriately for the target market.
By doing linguistic testing you would guarantee your localization journey has gone according to plan!
Also read: Mobile App Localization Strategy Report 2021
Top languages to localize your app in
We have created a list of the 5 best languages for our app localization. We have taken into consideration not only the speaking population but also economic growth and smartphone accessibility.
English – The Language of Globalization
English is spoken by roughly 1.5 billion people in the world. The map below depicts the distribution of English speakers worldwide.
English is the most commonly used language on the Internet – nearly 1 billon users and more than half of all websites use English. English has established itself as the language of globalization and is, therefore, crucial for those entrepreneurs who want to shine on the global stage.
To create a more clear idea of the possibilities which English offers for your business, we have a short analysis of the three countries with the largest number of native English speakers.
US – It is estimated that nearly 80% of the population has smartphones and over 60% of them use an Apple device rather than an Android one.
Also read: Top 5 Indian Languages Spoken in the USA
UK – Nearly 83% of the population on the British island use smartphones and the distribution of Android and iOS users is almost even with the latter being 3% more.
Australia: Nearly 70% of the population has a smartphone. The iOS users are 7% more than Android users.
Canada: Nearly 83% of the population has a smartphone. Around 57% of users use iOS devices.
In former British colonies, there are a huge number of English speakers, who are not native but have native-like fluency. For instance, in India alone, there are 125 million English speakers while 92% of the Filipino population can speak English.
Chinese Mandarin – the Language with the Most Speakers
The Chinese language could be a gold mine for your business. It is the language with the largest number of native speakers – nearly a billion, while more than 1.2 billion people can understand the Chinese Mandarin dialect. This dialect is distributed in Taiwan, Macau, Hong Kong, and Singapore. It is also the second most frequently used language on the Internet.
Chances are that if the Asian markets keep expanding, Chinese could surpass the popularity of English. What's more, analysts predict that China will become the world's leading economy by 2050 – yet another reason to localize your app in Chinese.
LinkedIn, Coursera, and Evernote are some of the apps on the constantly-growing list of international companies that have successfully expanded in China. In fact, LinkedIn entered the Chinese market in 2014 and it reported revenue of nearly 50 million USD after the first year.
China –Up to 60% of the Chinese population uses smartphones and nearly 80% are Android devices.
Taiwan – 60% of the population use smartphones, however, Android users are significantly fewer (over 52%) while iOS devices are nearly 47%
An Android-first policy usually works best when you localize your app for Chinese-speaking markets.
Also Read: How To Localize Your Website For China
Get your app localized in 70+ languages
Milestone helps you seamlessly translate content & localize your apps, products, and services for more reach, better conversions, and greater sales.
Hindi- The Language of India
Hindi has become the fourth most spoken language in the world and with India's recent economic growth, it is a language worth investing in. Roughly 80% of India's population speaks Hindi (including non-native speakers).
Hindi is also the 11th most spoken language in the US with over 650, 000 speakers. Moreover, in Mauritians, nearly half a million people or a third of the population speaks Hindi.
India has 500 million smartphone users- larger than the population of the USA! This number is expected to reach 859 Million in 2022.
An astonishing 95% of Indian smartphone users are on Android– something to consider when you localize your app for India.
Also read: Hinglish – A Report Of Usage And Popularity In India
A recent example of an app achieving great success in India is TikTok- it was downloaded more than 467 million times in India. That's more than double the number of users it has in China!
Localizing in Hindi can be a great way to test the Indian market. If you're successful, there are 18 other widely spoken languages you can translate into to improve your reach.
This may seem expensive- however, translating into Indian languages costs a small fraction of European languages. In fact, you can translate into 2-3 regional Indian languages at the cost of one European language!
German – The Language of European Industrial Power
Germany has established itself as a leading economy in Europe with a GPD of nearly 2.5 trillion Euros. German is a native language to over 95 million speakers and the official language of Austria, Switzerland, Luxembourg, Liechtenstein, and Belgium. A 2015 survey estimated that there are over 15.4 million German language learners worldwide, which is more clearly shown in the graph below.
It is important to mention that compared to the other languages, the number of German speakers is significantly lower. However, the countries in which German is an official language rank among the biggest economies in Europe and therefore, offer a great opportunity for developing your business.
Also read: Things To Consider While Localizing For The German Market
Germany – The press release of the Federal Statistical Office shows that the average household consumption expenditure was 20,420 euros per capita in 2018. Compared to the EU average -only 15,710 euros, it is evident that German consumers could be a great opportunity for your business. Furthermore, nearly 80% of the population use smartphones while 70% use an iPhone device.
Austria – The GDP per capita in Austria is 51,500 USD- among the highest in the EU. Almost 97% of the population uses smartphones while 70% use iOS. 88% of the population are native German speakers.
Also Read: How to Localize Your App and Reach New Users
Spanish- the Fastest Growing Language
There are nearly half a billion native Spanish speakers in Europe, Central, and South America.
13% of the American population or 41 million people are native speakers which makes the US the second biggest Spanish-speaking country in the world. Therefore, if you plan on expanding your business in the US localizing your app in English might not be enough. The US Hispanic population is believed to double by 2050.
Up to 60% of the Latin population speaks Spanish while in Europe it is the 5th most common language. Below you could see a graph of the Spanish-speaking population around the world:
The population of the Spanish-speaking countries (+ Puerto Rico) in 2011. Source
Also read: Prevalence of Spanish Language Within The US
Spain – The average value from 1990 to 2018 was 29961.97 USD with a maximum of 34830.54 USD in 2018 according to the World Bank. Moreover, nearly 80% of smartphone users have an Android device.
Mexico: According to CEIC Data from the years between 2006 and 2016 annually the household expenditure per capita reached 1,644.456 USD in Dec 2016 while the average value is estimated to be 2,972.567 USD. Android devices go up to 85% as stated in recent statistics.
There are different dialects of Spanish in Latin America and Europe- make sure you translate into the right one!
Other Languages
There are other languages that are believed to increase their influence in the upcoming years.
The flourishing oil market in the Middle East makes Arabic a very useful language for business trading.
Due to the current position of Russia as an economic and political superpower, Russian has become the most important Slavic language.
The number of Japanese speakers is rather limited. Nevertheless, it is a highly valued language since Japan has established itself as the world's third-largest economy and a leader in the field of science and technology.
Turkish, Portuguese, Italian, and French are all claimed to be among the fastest-growing languages and therefore, could offer a wealth of new opportunities for your business.
Do you want to localize your app? Contact us for a free consultation.
Make your app accessible to users across the globe
Milestone helps you seamlessly translate content & localize your app in 70+ languages