Birth Certificate
Translation services
Certified translations in 70+ languages!
Valid for admissions, immigration, and all other official purposes.
Guaranteed acceptance.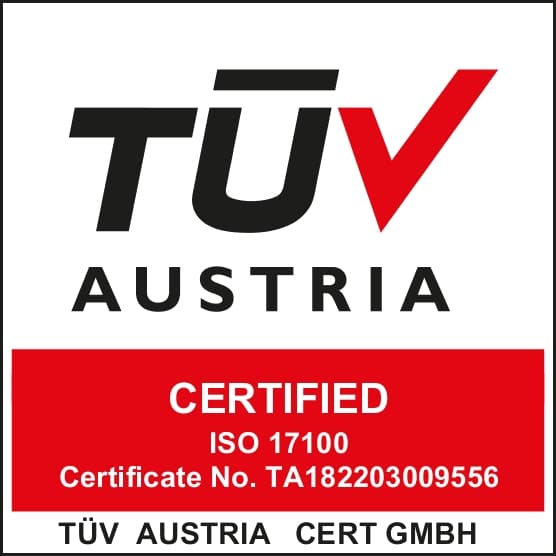 ISO 17100:2015 Certified Agency

We can translate your birth certificate, marriage certificate, report cards, bank statements and letter of employment into 70+ languages.
We're an ISO 17100 certified translation agency and our translation certificate is accepted by colleges, employers and immigration.
Our sales team can advice you on the process of translation, certification and acceptance.
Choose from 70+ languages
Our expert translators are familiar with each location's requirements and translate birth certificates precisely according to that jurisdiction's standards. Milestone Localization selects a birth certificate translator who is fluent in both your birth certificate's language and the language of the required translation.
Do You Need a Translation Certificate?
We provide a translation certificate on request- at no extra cost!
The certificate includes-
Name of the requester
Details of the documents translated
Language pair
Our translation company's seal and signature
Declaration of accuracy and completeness
The service and response is very good thank you

Vasanth B.L.


Had a really good experience in translation of the documents. Communication from start to end was good.

Sagar Musale


Our Respected office M/s.Esteem Group got a indeed true and swift help on the translation work sought from Milestone Localization and immensely to interact with Milestone every time and anytime. The feel is truly good to interact and interface.

Sridhara m n


pretty professional team.. very good

Siva Donthamsetty

Get an Instant Quote
Experience our commitment to deadlines even before we start your project
99.9% Accuracy and Top Quality
We use the best linguists and latest technology to ensure translation quality
On Time Delivery- Every Time
We promise to deliver on time. Get 10% off each day delayed if we can't keep our promise
Order Your Translation Here
Our team is ready to help you with your translation needs.
Frequently Asked Questions
What are the important things to remember when translating your Birth Certificate?
Birth certificate translations must be certified by a trained and accredited translator and signed and stamped in accordance with the format required in your jurisdiction.It must include thee translator/agency's name and contact details.
The certificate must also contain the source and target language, declaration of accuracy, date of translation and name of requester.
Don't take the risk of having your immigration application rejected. Milestone Localization has a guaranteed acceptance or get your money back policy.
Can I translate my birth certificate on my own?
If you require a translation for official purposes, you cannot translate it yourself.
Because birth certificates are a primary vital record and proof of identity, authorities require that they be translated by a trained and accredited translator who produces a signed and stamped certification to prove the accuracy of the translation.
A translation certificate from an accredited translator or agency is required.
Can a notary public translate a birth certificate?
A notary public is a government official who only confirms a person's identity.
Although a notary public can translate a document if he or she understands the language, he or she cannot notarize signatures on documents that he or she translates.
The document must be notarized by another notary public.
However, this is dependent on the country in question, as different countries define what a notary public can and cannot do.
Do I need to translate my birth certificate for immigration purposes?
If you are immigrating to the United States and your personal documents are not in English, you must have them translated and certified, including your birth certificate.
In addition, if you intend to study in the United States as a foreigner, you will need to translate your birth certificate along with your other personal documents because the university will require it, and you will also need it for your visa.
Depending on the language of your original documents and the official languages accepted in the country you are immigrating to, you might need to get your birth certificate and other documents translated.
Where Can I Translate A Birth Certificate
If you believe that a friend of yours is fluent in English and that they can translate your birth certificate into English, you are wrong.
There will be rules that you must follow depending on the purpose of the birth certificate translation.
Only translation companies that have translated birth certificates are familiar with the requirements of a government agency such as USCIS.
For example, birth certificates translated for immigration purposes must be certified before submission.
A certified translation birth certificate is also required for university admission.
As a result, you must never, ever make a mistake with your birth certificate translation.
Milestone Localization's Services can provide you with a birth certificate translation that is both accurate and affordable.
How can I find a Birth Certificate translator near me?
There is no need to look any further. Milestone Localization's birth certificate translation services are available around the world.
Simply fill out the contact form to send us an image of your birth certificate as well as information about your translation requirements.
We will respond quickly with the information you require. Our standard delivery time is 1 working day.
Where can I get certified translation of birth certificate?
If you are submitting documents USCIS, you will need to have all of your personal documents translated into English and certified.
While you could possibly get that from any freelancer, we strongly advise you to get your translation from an accredited and certified agency.
We can assist you at some of the most affordable rates, and we guarantee that the translation will be accepted by the USCIS.
Do you translate marriage certificates or marriage licenses?
Marriage certificates, for example, must be presented in English to USCIS. It is a general rule that applies to any vital or personal document.
We translate marriage certificates and licenses into English from over 70+ languages.
Send us a scanned copy of your documents and we will translate them into English and certify the translations.
How To Get USCIS Translation Of Birth Certificate?
Are you planning on immigrating to the United States? Then you should prepare for the USCIS formalities.
First and foremost, review the list of documents that must be submitted. If the aforementioned documents are not in English, you will need to have them translated.
And, according to USCIS regulations, a simple document translation will not suffice. You'll need official certified translations.
To begin, you will be required to submit your birth certificate, which serves as the primary proof of your identity in your home country.
To obtain a USCIS Translation of your birth certificate, you must first locate a translation company that specializes in immigration translation and has a 100% acceptance rate with the USCIS.
Once you've found one, send clear copies of your documents for translation.
The agency will translate, format and certify your documents. These certified translations can then be submitted to USCIS with the rest of your documents.
As per the new rules, you do not require original copies and printed copies can be submitted for verification.
Can you keep the same format?
Yes, we can keep the original document's format.
In fact, the translation will usually be sent to you in the same format as the original document.
We'll keep the format the same as the original file and copy the stamps and seals onto the translated file.
Make sure you send us a clear copy of your documents!