Do you want to grow your business internationally? Then you need to hire a certified
translation agency
. But why? Keep Reading.
Less than 20% of the world understands English. If you're looking to expand to non-English speaking markets, you'll have to localize to succeed.
So you've decided to translate your website, app, or marketing content. Maybe even your legal documents and videos.
After you've decided where to grow and chosen the languages to localize in, here's the big question you have to answer: Do you hire a freelance translator, or do you partner with a translation agency?
Here are six benefits of working with the translation company over a freelancer (or group of freelancers)-
1. Translation agency can provide end-to-end services
Localization is a very complex process consisting of a few different services such as translation, proofreading, linguistic testing, typesetting, etc. If you opt for a freelance translator, it is very unlikely that they can handle all these activities.
Freelance translators have rather limited expertise and thus, it will be unlikely that they would manage all the processes of translation that a project requires.
They are also limited in output. On average, a linguist can translate 2000-2500 words per day. If you have tight deadlines, you'll have to engage and coordinate with multiple linguists.
You will have to look for each specialist separately. This is obviously a waste of time and effort which can be easily saved by working with a translation agency.
Our translation agency provides all language-related services to complete big projects-
Translation
Proofreading
Editing
Localization Engineering
Typesetting
Linguistic Testing
Quality Control
Style Guide and Term List creation
Translation agencies employ all kinds of specialists to work on a single project. With the team's collective efforts translation companies are able to provide faster services than a single freelance translator.
Translation companies are a kind of one-stop shop for all your language requirements. We deliver publishing-ready files for our clients.
What's more- you just have to talk to a single person to get all your work done.
2. Screened, tested, and well-trained linguists
When it comes to translation, a poor quality translation is worse than having no translation at all.
Translation companies are quite demanding when it comes to building their teams of professionals. They always look for the most qualified and experienced candidates.
At our company, to ensure they have selected the cream of the crop, we ask the following questions:
Are they native speakers of the language to which they translate?
Do they have at least 5 years of professional translation experience?
What kind of education do they have?
After a candidate has passed the aforementioned screening process, what follows is a translation test. Our tests can be general to gauge language proficiency or specific to a project in a particular domain.
The candidates who have passed the test receive additional training from us on styles, tone, and project-specific parameters. This whole process of screening, testing, and training professional translators is intended to serve the best interest of our clients.
When you work with freelance translators, you have to go by their word. If you want to screen and test them, you will have to set up special processes and hire an additional reviewer and tester. For big projects, this can be expensive and time-consuming.
Milestone Localization is ISO 17100:2015 certified and our translators are screened, tested, and trained as per the guidelines of the standard. So when you work with us, you can be sure that a competent linguist with the right credentials and experience is working on your project.
Check-Out: We're An ISO 17100 Certified Translation Company
Think about the following scenario: You work with a freelance translator and they decide to go on a vacation or get sick. This, in turn, would mean that your project is put on hold.
However, if you work with an agency, you will never face such a problem. We always have backup translators to work on your project!
3. Tried and tested processes to ensure quality
Translations can be tricky- especially when you're working on a big project with thousands of words spanning various subjects and formats.
Translation companies have a dedicated project manager who understands the scope and goal of the project. A company can come up with the perfect process flow to adapt your content for your target audience.
The entire project is planned and mapped out, from file pre-processing and content extraction to proofreading, linguistic testing, and delivery.
Here is our standard workflow for
localization projects
:
Milestone Localization customizes the process based on your file formats, language pairs, and deadlines.
Every step is designed to improve quality, accuracy, and speed. We use the latest technology to aid collaboration, maintain consistency, and ensure quality.
Freelance translators don't have access to sophisticated technology or a team of specialists needed to execute big or complicated projects. At best, they can handle one or two of the processes for you.
So if your project has more than one language and your content is in different formats, you'll need to work with a translation agency.
Also Read: 7 Reasons To Work With a Translation Company on Your Next Project
4. Many languages – a single point of contact
A single translator might work with two or three languages; however, translation companies can provide services for a number of different, even unrelated, languages. As mentioned above, translation companies have teams of linguists knowledgeable in numerous languages and spheres.
Moreover, if you work with freelancers, you will have to coordinate with several people for each language and service that you need. You'll also have to understand the nuances of different languages and decide the style you want to go for.
For example–
If you're translating in Hindi, you will have to decide if the voice should be male or female
For Serbian, you'll have to decide whether to use the Cyrillic or Latin script
When translating to Spanish, do you want to use inclusive or gendered language?
A translation agency has experience translating several languages and can create a style guide and term list for you based on your goals.
Milestone Localization has a client portal where you can track the progress of your projects. We work with translators in 70+ languages.
You'll have a single point of contact for all your inquiries. Just give us your language list and we'll handle the rest!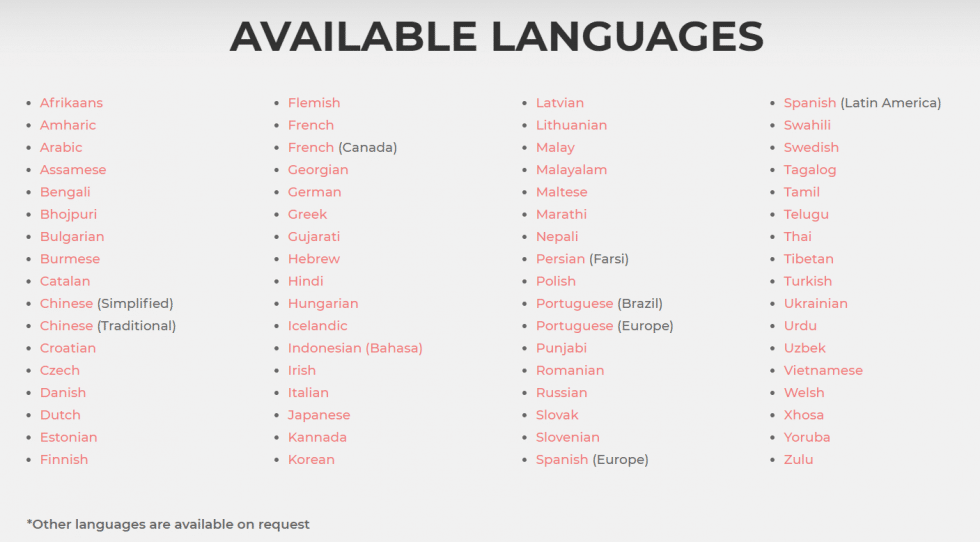 5. Cutting-edge technology
Undoubtedly, one of the greatest advantages of translation service providers in the technology. It makes everything much faster and, in most cases – cheaper.
Translation software allows the translators to use various tools such as translation memories, term lists, etc. which are greatly beneficial in the long term.
Translation memories (TM) are databases that store previously translated texts which can be later on reused. TM aids a faster and more efficient translation process and also reduces the costs since there is lesser new text to translate.
Terminology lists (also called glossaries) are lists of words and phrases with their approved translation.  The use of terminology lists ensures that the translation is consistent across the whole project.
Automated QA Checks using various tools ensure consistency in numbers, codes, punctuations, length and check spelling, grammar, and extra spaces.
If you decide that the time to conquer yet another market has come for your company you should simply contact the company instead of looking for new freelance translators. The company will use the term lists and leverage translation memories to save time and maintain consistency.
Translation software is a big investment which not many freelancers can afford. To reap the benefits of translation memories and glossaries, you must work with a translation company!
Also Read: CAT Tool -Features & Benefits- Why Every LSP & Translator Should Use One
6. Strict confidentiality
If you worry about some sensitive information, it is imperative to turn to a translation agency to do the translation for you!
Professional service providers usually require their clients as well as each member of the team working on the particular project to sign non-disclosure agreements or confidentiality agreements.
Milestone Localization uses software to ensure that our vendors can only work on content on our platform without being able to download or copy it. We also do regular audits to ensure that confidential information is deleted from our systems as well as the systems of our vendors.
To Conclude
Using a translation company is no doubt more expensive than working with a translator, but only in the short run.
If quality, consistency, ease of working, and long-term cost-saving if what you're after, you should work with a translation company.
Our Sales team is ready to help you with your translation needs.