North East India is the easternmost region of India both from a geographic and administrative perspective. Famous for the Seven Sister States, in other words, the states of Arunachal Pradesh, Assam, Meghalaya, Manipur, Mizoram, Nagaland, and Tripura. Sikkim also included in the North Eastern Region of India as the eighth state.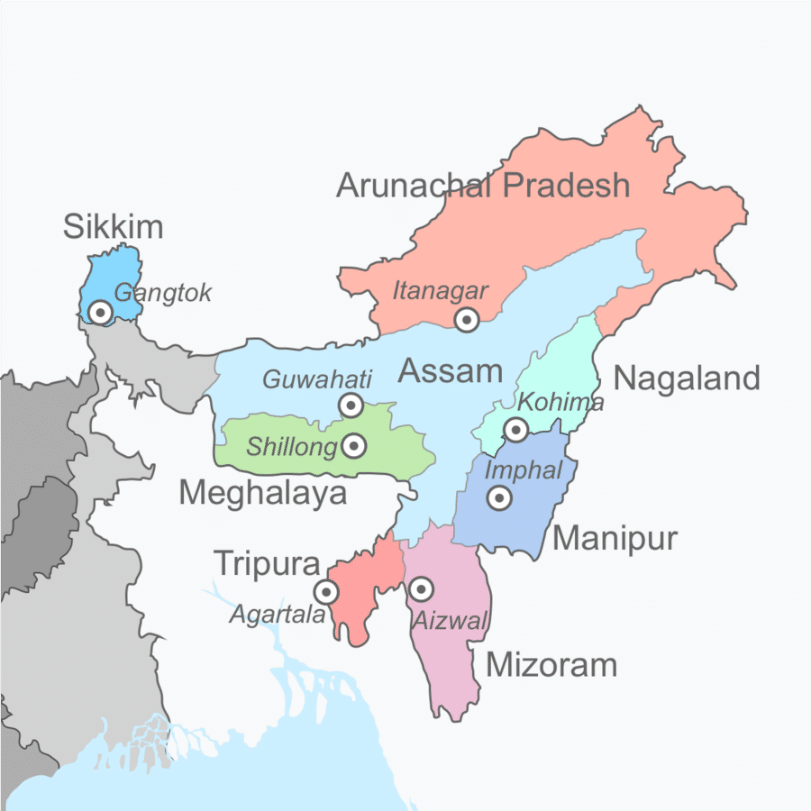 The combined population of North East India is 56 million.
Arunachal Pradesh is the largest state and Tripura is the smallest in terms of land mass.
North-East India is known for the variety of communities who live there, age-old traditions, tribal culture, and their linguistics.
The major industries in this area are agriculture, oil and gas, mining, construction, manufacturing and tourism.
Interesting Facts About the Languages of North East India:
People of North East India can speak around 220 languages.
They belong to multiple language families namely – Indo European, Sino – Tibetian, Kra – Dai, Austroasiatic, and some other Creole languages.
Therefore, they share a lot of common cultures and ways of living between themselves with a lot to tell them apart from each other.
Popular languages, spoken by North-East Indians
1. Assamese – The most widely spoken language in Assam. The language gets its roots from the Indo- Aryan family. However, this is the easternmost Indo-European language, with more than 14 million speakers
2. Bengali – Spoken in the Barak Valley, a region in the southern part of Assam. It is also a language that comes from the Indo-Aryan family. Bengali is also one of the most widely spoken languages in the world. Spoken by almost 215 million people in the world, Bengali ranks 7th in the list of most spoken languages of the world.
Also Read: 10 Big Brands with Hindi Taglines
3. Bodo – This is a Sino-Tibetan language spoken by the Boro people of Nepal and Sikkim. In Bodoland, a region in the foothills of Bhutan and Arunachal Pradesh, people widely speak Bodo. There are almost 1.4 million native speakers of Bodo. (Source)
4. Meiteilon – A Sino-Tibetian language spoken in the South Eastern Himalayan state of Manipur. This is also one of the 22 official languages of the Government of India. It's spoken by almost 2 million people in the world as their 1st Language and 1 million 2nd language speakers. Majorly, people in Manipur and parts of Bangladesh and Myanmar people speak the language.
5. Mizo –In the state of Mizoram and parts of Assam, Tripura, Nagaland, and Tahan- Myanmar, there are 830,846 native speakers of Mizo. It is a Kuki-chin language from the Sino-Tibetian family of languages. Dhulian is a colonial term for the language.
6. Kokborok – This is the main native language of Borok or people of Tripura. Spoken by approx. 918000 people in India and 122,000 people in Bangladesh. Kokborok is also a Sino-Tibetan language with Bhramaputran and Bodo. They got the name from the Twipra Kingdom, now known as Tripura.
Other tribal and evolved languages –
a. Garo– A Sino-Tibetan language spoken in the Garo Hills in Meghalaya.
b. Khasi – Sole representative of a language from the Austric family is the major language in Meghalaya.
c. Limbu – This is a Sino Tibetian language spoken by the people of Eastern Nepal and some parts in India namely Darjeeling and Sikkim.
d. Apatani – Spoken by the Apatani tribe in the famous Ziro valley of Arunachal Pradesh.
e. Wancho – Wancho is the Kanyok language of North-Eastern India. One of the rural languages spoken in Assam, Arunachal Pradesh, and Nagaland.
f. Bori -This is a Tani language spoken by indigenous tribal people in Arunachal Pradesh.
g. Khunggoi – A Sino-Tibetan language of the Tangkhul branch. It originates from the Khangoi village and is now spoken in parts of Manipur and Nagaland.
h. Rengma – A Sino-Tibetian language spoken by the Rengma tribe living in Nagaland and parts of Assam.
i. Sumi -A Sino- Tibetian language spoken by the Sumo Naga tribe. A major ethnic group in the state of Nagaland.
j. Chang – spoken in 36 villages of Nagaland with its roots and influences from Sino-Tibetian, Sal, and Konyak families.
The 145 tribes of the North East region speak variations of these languages with their own distinct pronunciations and sounds.
North East India is a mix of cultures and languages- you need a local expert to help you adapt your content for the regions. We can help you. Get in touch.