Mobile gaming is one of the most dynamic industries today. Currently, there are over 2.2 billion gamers around the globe. What's more, 56% of them spend 10+ hours a week playing video games.
As a mobile game developer, you would want to make your products accessible to a wider audience. 
Without a doubt, if you want to increase mobile game downloads and accomplish a strong global presence, localization is the only way to do it.
Want to learn more about the mobile gaming market and mobile game localization?
You can find all of this and more in the following blog.
Why is mobile gaming a booming market?
Current and expected growth of the sector
In 2021, the global mobile gaming market reached $93,163 million2. According to experts, it will continue to grow at a CAGR of 12.2%, reaching a whopping $261,586 million in 2030. What's more, studies have revealed that in 2022 the mobile gaming industry constitutes  61% of the whole gaming industry with an estimated value of $136 billion out of a total market size of  $222 billion.
This estimation is based on the fact that mobile game downloads increased by 45% during the first quarter of 2021 compared to pre-pandemic times. During this period, 1.1 billion downloads per week were registered.
While the pandemic has had a positive influence on this industry, it is not the only reason why mobile gaming is so successful. Indeed, advanced technologies for making video games, along with the increasing use of smartphones, have had a far greater contribution to this massive growth of the mobile gaming industry.
The mobile gaming sector has opened up new opportunities for gaming businesses, but not only. Many social media platforms such as Instagram and Facebook feature mobile games, leveraging entertaining games to services and products.
Here are some more fascinating statistics about the mobile gaming industry:
Up to 25% of iOS and 21% of Android apps downloaded are games.

Mobile games account for 43% of smartphone use.

There are over 2.2 billion active mobile gamers in the world

Women are more likely to spend money on in-game content than men
Also read: Mobile App Localization Strategy Report 2021
Regions of growth
The United States is the current leader in terms of consumer spending on mobile games. It overtook Japan in the second quarter of 2019, and it seems the US will keep its position for the foreseeable future. 
In the first quarter of 2021, the US experienced nearly 35% YOY growth, estimated at $1.5 billion. What's more, in 2020, the US share of global consumer spending on mobile games was estimated at 28% which is an all-time high, overtaking both Japan (22%) and China (18%).
The most downloaded mobile games categories in 2020 on both App Store and Google Play were quite diverse, including simulation and casual games. The leading mobile games by revenue were mainly multiplayer adventure games.  
Asia is closely following the US. This region has a promising future in the mobile game industry, including countries like Japan, China, South Korea, and Taiwan. 
Indeed, four of the top five countries with the largest mobile game revenues in the world are situated in Asia. Asia makes up half of the gaming segment's total market share. The combined revenues of all countries surpass $12 billion. 
India is yet another Asian country that is a leader in the mobile game sector. In the third quarter of 2020, the country registered 3 million mobile game downloads, accounting for 12% of the global share. Other countries such as Indonesia, the Philippines, and Pakistan have experienced a massive growth in mobile game downloads in recent years. 
The most popular mobile categories in Asia are action role-playing as well as battle royale games.
During the first quarter of 2021, the mobile game revenue in Europe reached $2.7 billion with  YOY growth of 27%. During the same period, user spending in Germany reached $600 million (compared to $250 million in 2017) with a 33% YOY growth.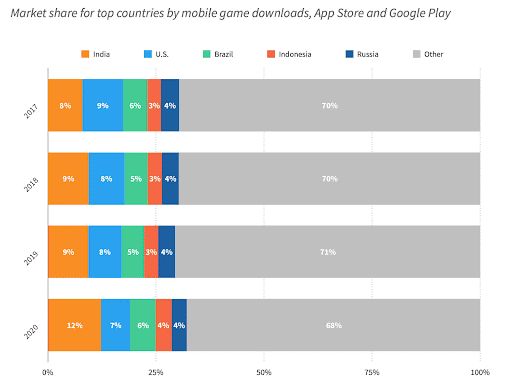 In terms of downloads, in Q1 2021 Russia and Turkey take the leading positions with 758 million and 537 million downloads respectively. 
Action and casual games seem to be preferred in the European market in terms of downloads and revenue.
Africa is one of the fastest-growing regions for mobile gaming. During the second quarter of 2020, downloads increased by  50% compared to the first quarter. During the same period, non-organic gaming installs underwent an increase of 56%.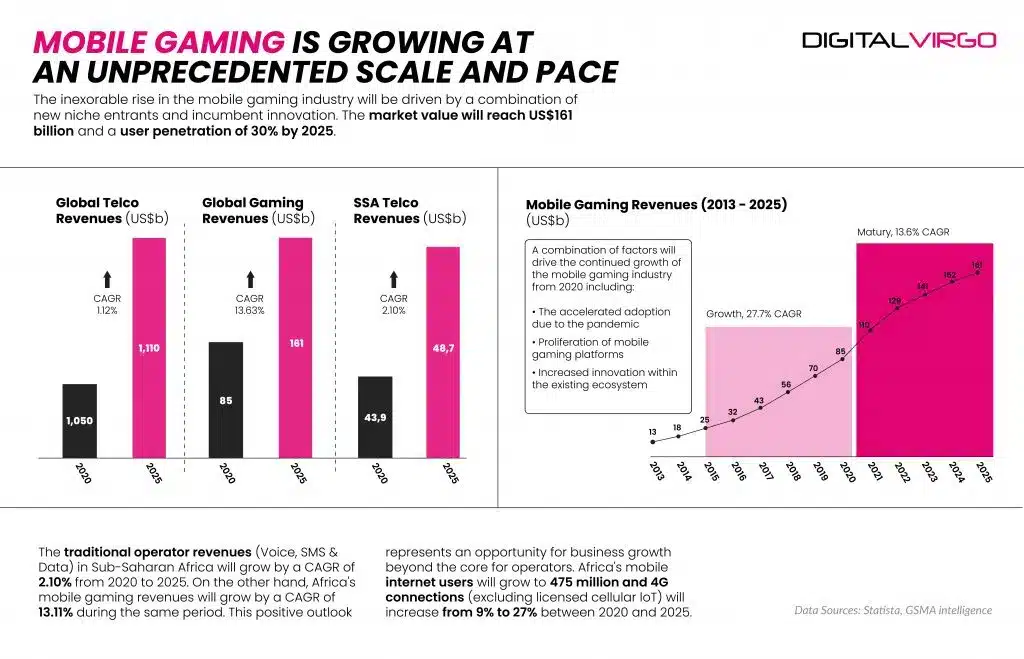 Data and connectivity, however, remain a big challenge on the continent. At the end of 2019, mobile internet adoption in Africa was estimated at 26%, which is significantly less than the global average of 49%.
Still, Africa has a promising future in the mobile gaming industry because it is the only region in the world where the young population is constantly increasing.
Market forecast
The future looks bright for the mobile gaming industry. The sector is growing, and this trend is not expected to slow down in the upcoming years. Indeed, by 2023, the Southeast Asia mobile gaming market is expected to undergo a 90% revenue growth, surpassing even Europe, which is forecasted to experience a 76% growth over the same period.
What's more, mobile gaming revenue is expected to reach $117 billion, with a CAGR of 13.5% by 2023. Doesn't sound bad, does it?
But how can you maximize the potential of your products and take advantage of this growth in the mobile gaming sector?
Keep reading to find out more.
How to increase mobile game downloads with game localization?
Mobile game localization is the process whereby a mobile video game is adapted to the language and culture of a given geographical area or a specific country. 
Localization often goes beyond language. Indeed, translation is a vital part of the localization process, however, this is not enough. This process intends to customize the user interface of your product, taking into account cultural, political, religious, and legal peculiarities.
All this is achieved through teamwork between linguists, developers, software engineers, marketing experts, etc. The end goal is to improve the user experience, making the end user feel as if your product is tailored specifically to their taste and needs.
Without localization, your customers might be confused or even offended by images or text in your mobile video games. Thus, they are very likely to uninstall your game from their devices.

All in all, mobile game localization is a complex process, yet it will help you to reach new international customers and increase mobile game downloads. Partner with the right localization agency to increase mobile game downloads.
Also read: Top 8 Game Localization Companies In 2022
We will tell you more about how this can happen in the following sections.
How does localization work?
As you already know, mobile game localization is a complex process that includes several steps before the final localized product is delivered. Here are the main steps:
Internationalization
Internationalization is probably the most vital step before the localization process begins. Internationalization refers to the practice of designing products in a way that will facilitate a future expansion into international markets.
In other words, when you start creating your mobile game, internationalization will help you set it up so it can be easily adapted to new markets.
Additional materials
Before the localization process begins, you need to provide your LSP with sufficient context about your game. You can do this through style guides, glossaries, translation memories from previous projects, or terminology databases. 
Also read: What is a translation Glossary & Its importance in Localization
Game translation
This is the initial step where all the text in your product is translated. This includes interface messages, ads, online assistance, website, all the scripts, and any other on-screen text that might appear.
Graphics localization
Once the textual content is adapted to the target language, the graphic content can be localized. In this step, any symbols, colors, images, date formats, currencies, or even sounds are adapted to the target audience, so that the smallest detail resonates with your customers around the world.
Dubbing
After the scripts are translated, voice-over actors dub your mobile game. This is not an easy task since the script, its time stamps, and style guides for the voice-over actors should be prepared in advance to ensure perfect end results.
Testing
The final step is to test the localized version of your mobile game. In this way, you can ensure that the localized product runs smoothly and nothing will damage the experience of your customers.
Game Localization costs
Localization costs can vary drastically from one project to another. No formula can actually estimate how much the localization of your product will cost. Still, certain factors play a significant role in determining the overall investment.
Also read: Localization and Translation Costs – Breakdown of Factors Involved
The team responsible for the project: Localization usually requires a whole team of experts who work together on adapting your mobile game for your target market. Needless to say, the bigger the project, the more people are involved in the localization process. Tight deadlines might also require more manpower to get the job done on time. So, as you can imagine, the more people are involved, the higher the costs will be.
Technology: Contrary to your expectations, technology can significantly reduce the overall costs of localization. Using a translation management system (TMS) would make the workflow much more efficient, reducing interpersonal communication to a minimum, while increasing overall productivity. Machine translation and various integrations can further speed up the process. 
Nevertheless, keep in mind that setting up these systems is part of the investment. So, these solutions will be beneficial only when used on a long-term basis. The more localization project you have, the less money you will invest per project.
Target region and language: The translation prices for different languages can vary significantly. Some rare language combinations can be quite pricey, such as Arabic/Mandarin or Japanese/Spanish. 
What's more, languages spoken in more economically developed regions are usually more expensive. For instance, Scandinavian languages are among the most expensive languages for translation. Higher demand for a language pair might also result in higher prices, which is the case for the Chinese language.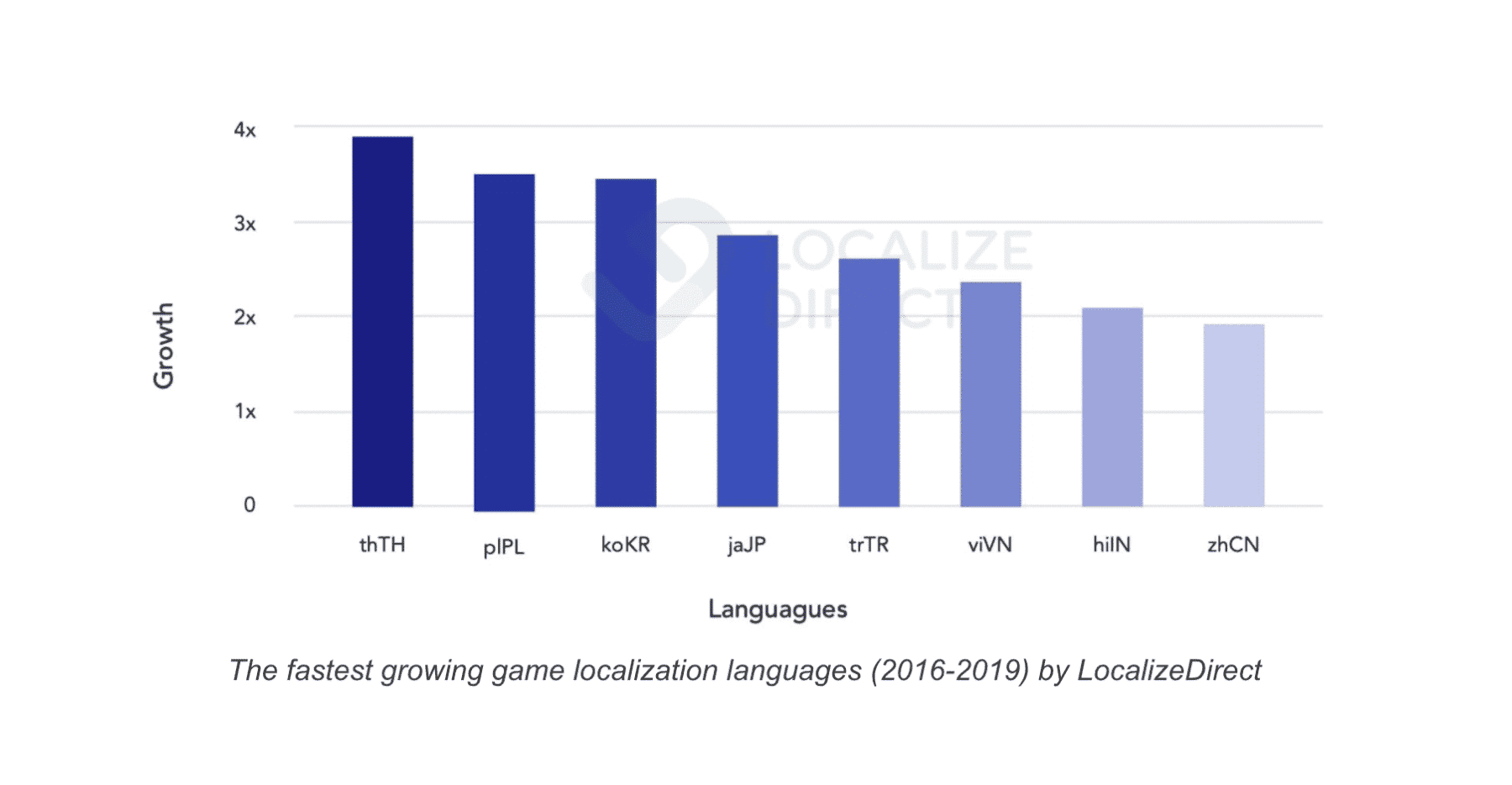 Strategy: Devising a plan before diving into localization can result in massive savings. First, you want to analyze all the potential markets you might want to localize for. Then, you need to set up a budget. Keeping in mind your finances, you can choose which market will be the best option for you. 
Usually, the best way to go about it is to choose the most lucrative markets. Eventually, look for a good LSP who will help you realize your plan to its fullest potential.
Maximizing your ROI through localization
And while localization is a huge investment, it can be highly beneficial to your business, your revenue, and ROI:
Increased global sales:

Customers are much more likely to buy a product in their native language. In other words, having your product localized, will definitely increase your global sales.

Increased game downloads:

According to experts, users are 62% more likely to download a video game if it is available in their native language.

Increased user engagement:

Providing your game in the local languages makes it easier for users to immerse in the story and, thus, spend more time and money on your product.

Gain a competitive edge:

The mobile industry is a competitive market and as such, it can be hard to stay on top of your rivals. By making your game available for multiple locales, you can gain a fair share of the global market, solidifying your global presence.

Increased customer satisfaction:

 Satisfying your customers' needs will inevitably build trust in the end users.  Happy customers are much more likely to recommend your product to friends and family.
Overall, localization brings about several advantages, which eventually add up to a greater ROI.
Also read: Top 5 Languages to Localize your App In
Download Our Free Translation Style Guide Template
Create a style guide for your next Localization project with our easy-to-edit style guide template
Successful mobile game localization: Arena of Valor
Arena of Valor (AoV) is a mobile game developed by Tencent Games, a Chinese company operating in Shenzhen.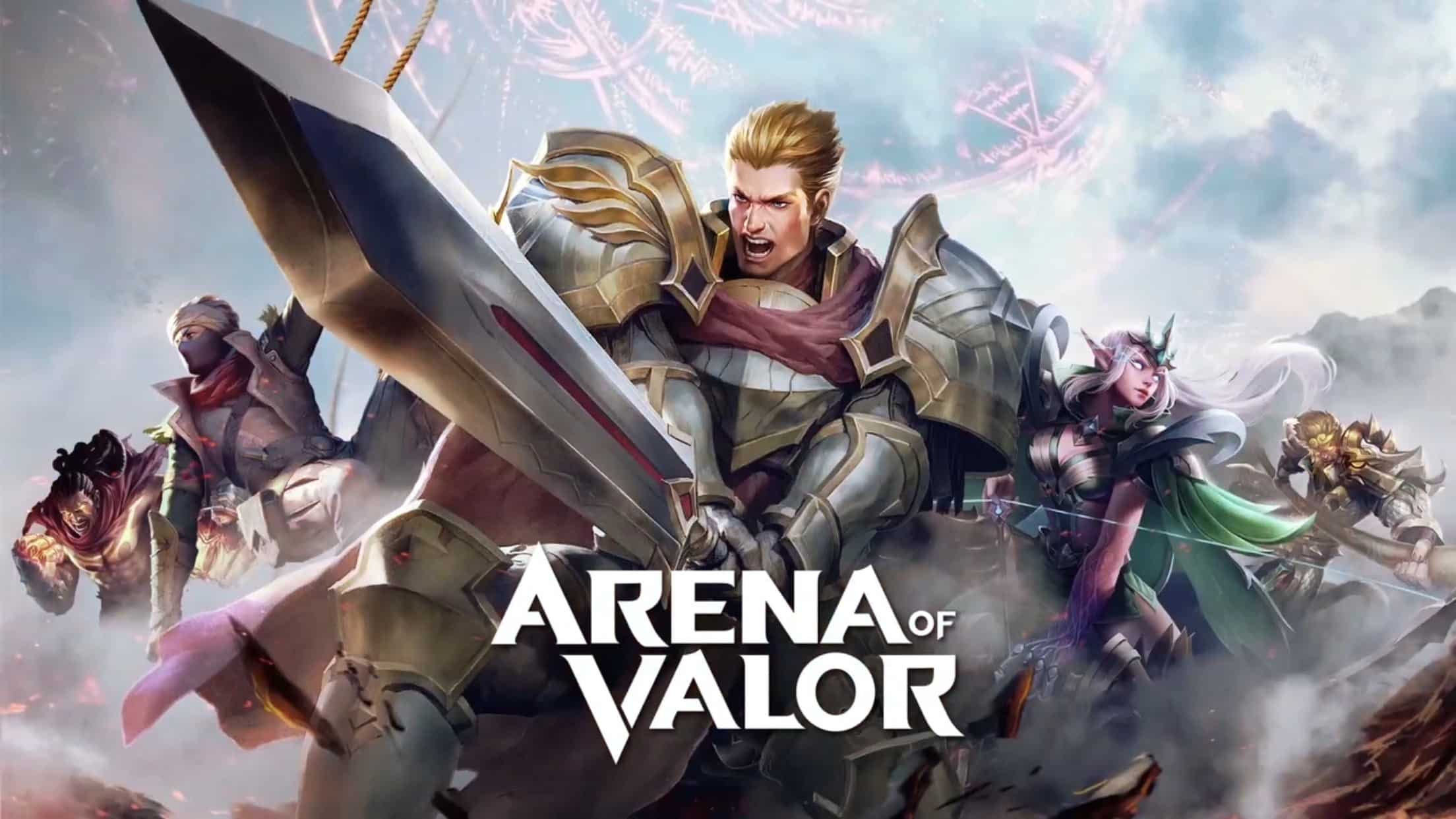 Arena of Valor is an online multiplayer battle arena mobile game available on iOS, Android, and Nintendo Switch. It was released in October 2016. 
However, AoV is not the game that was initially developed by Tencent Games. Arena of Valor is an international adaptation of the game's Chinese version, Honor of Kings. 
The developers invested in thorough localization so that they can achieve success outside of mainland China. The game is localized in 7 languages: Chinese, English, Spanish, Japanese, Korean, Malay, and Tamil.
And they did it!
According to statistics, since May 2019, Arena of Valor has had a daily active user rate of over 13 million players.  
Tencent games achieved this through localization. AoV's localized version for Europe and the US included characters such as Superman and Batman that are well-known to the target audience. What's more, for each target locale there were regional managers who were allowed to adapt the in-game content so that it resonates better with the given locale.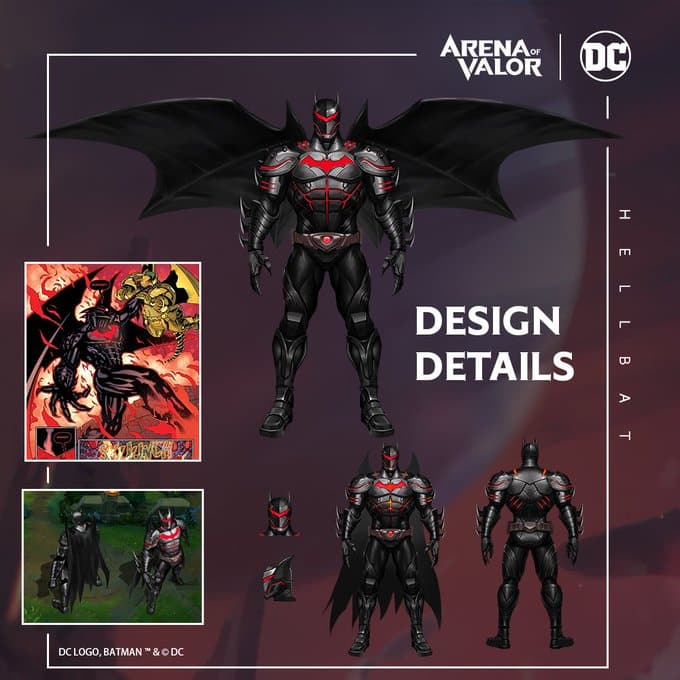 Indeed, it is no surprise that Tencent Games achieved global success with their Arena of Valor. 
Also read: 6 Reasons Why App Localization Matters for Global Success 
Best practices to increase mobile game downloads with game localization
Since localization is such a complex process, it is always advisable to start slowly. Here are some best practices you can implement while planning out and working on your localization strategy:
Do your research: Before you dive into the localization process, you have to make sure that you are well-acquainted with the global gaming market. Here are some questions that you have to answer before you move on to the next step:
What are the most developed regions in the mobile game market?

How widely accepted is your game's genre in these regions?

What are the biggest competitors in the selected regions?

What can you offer more than your competitors?
Find the right language service provider: Now that you have clear intentions on what you want out of your localization project, you can look for a reliable LSP. When it comes to localization, it might be better to work with a professional agency rather than freelancers.
Agencies work with well-trained localization teams, which include all kinds of experts. This will save you both time and money since you won't have to look for the needed specialists yourself. 
All you have to do is discuss your project with the LSP, submit the files, and let the professionals do their magic.
Also read: Translation Agency vs Freelancers: Who is Better for Your Business?
Provide sufficient materials: You can make the localization process much more efficient when you prepare appropriately in advance. This means providing your LSP with enough materials so that they have a clear idea of what the final version of your product should look like. 
In fact, providing additional materials such as terminology data, style guides, translation memories (if available from previous projects), and glossaries will be highly beneficial to everyone working on your project. 
Beware of text expansion: Text expansion is one of the biggest challenges one could face during localization. For instance, German text takes up on average 30% more space than its equivalent in English. Arabic text can cover up to 10% more space.
Thus, it is best to plan at least 30% additional space when you design your mobile game interface. 
Test the final localized version: Make sure that a QA test is included in your localization plan. What's more,  set enough time and money for it. Final testing is crucial since it can ensure that there are no errors and that you can deliver the perfect user experience to your clients. 
Needless to say, always set up a buffer period in case some errors do occur during the testing. In this way, you can take your time to rectify the errors without worrying about any delays in the release of your product.
Localize your metadata: Translation and localizing the metadata of your products, such as title, description, keywords, and screenshots used in the description can help you increase your game's visibility. So, even if your game is not yet localized, people can find ample information about the game in their native language. In this way, they can understand what your game is about, and if they like it, they will download it on their device. 
Start with English: If your game is available only in English, you are highly unlikely to fulfill the potential of your product. Still, English is a good start since many people understand it. Then, you can analyze in which locales your game is downloaded the most. For instance, if there are many downloads in Spain, you might want to invest in Spanish translation services. 
Even if your game is available in English and you have not yet localized it in any other languages, it is best to at least localize the metadata in different languages.
 Localize marketing materials: Mobile game localization is not enough to reach international users and increase your downloads. You should think bigger. You need to promote your game in all your target locales so that people notice it. This means that you should also localize any marketing materials such as websites, advertisements, launch videos, etc.
Also read: Best Practices for Building a Multilingual Website
Even if your game is available only in English, you can attract international gamers through localized marketing materials.
Localize your content gradually: Once you have done all the practices above, you can move on to the next and final step – localizing your mobile game. Only in this way will you be able to fully maximize the potential of your product and increase your downloads.
Still, you should localize your product gradually, doing one or a maximum of two languages at a time. In this way, you can ensure that each localized version is well-tested and error-free.
Analyze and update continuously: The localization process does not end once you have localized your game. In a way, the localization process never ends, since you always have to localize even the tiniest of updates to your game. You need to be always on the lookout for any bugs or possible optimizations so that you can provide the best user experience possible.
In conclusion
The mobile game industry is currently experiencing massive growth all across the globe. Faster internet connection, increased smartphone use, and rapidly developing technologies are the main drivers for this sector.
Nevertheless, there is fierce competition, and newcomers might find it hard to establish themselves on the global scene. Localization, however, seems to be the perfect tool that can help you reach new international audiences while staying on top of your competitors.
Level up your mobile game with localization
Make your game available to millions of new players and increase your downloads. We provide comprehensive game localization services in 70+ languages and 1000+ language pairs.