eLearning translation services are a great solution for companies who need to provide high-quality content to global learners in multiple languages.
Knowledge is the most valued asset in every professional sphere. Thus, online learning platforms have become a valuable tool for everyone seeking to better their expertise on a specific subject.
E-learning platforms are information systems that provide paid or free online courses. This industry experienced massive growth in 2020 during the COVID-19 pandemic, estimated at over $250 billion. By 2026 the industry is expected to almost double its size and reach $457.8 billion.
Indeed, the success of this industry and the optimistic prognosis for its future growth have led many to invest in creating such courses or platforms. As a result, the market is currently flooded with online courses, most of which are in English.
This might help you grow your business in a highly competitive market.
There is a fairly limited number of online courses in foreign languages. This, in turn, means that a huge part of the world population, up to 75%, is left out.
Indeed, investing in E-learning localization can be beneficial to expanding your business.
The following blog will give you a detailed overview of the process of e-learning localization so that you can make an informed decision!
1. What is E-learning localization?
E-learning localization is a process of adaptation of online course content to a specific audience based on geographical location.
When localizing, it is important to understand that every culture has its specific beliefs, experiences, language, and tradition.
The localization teams adapt the content in accordance with these characteristics. As a result, the target audience receives a one-of-a-kind experience, catering specifically to their unique preferences.
Also Read: Reduce Localization Costs: 6 Simple Tried and Tested Ways
If you want to expand your courses or e-learning platform to new markets, simply translating the content will not be enough. Translation focuses on text and meaning. Localization, on the other hand, has a much broader scope of features.
Localization means adapting:
Graphical User Interface (GUI)
Images, photos, colors, and symbols
Fonts
The tone of audio narration
Idioms and abbreviations
Spelling and local expressions
Units of measurement, dates, currency
Examples, names of characters, references
These parameters may differ from culture to culture. By localizing, you can adapt your content so that all your international users can comfortably use your services.
2. Why aspects do you need to localize?
Here are the aspects of your course and platform you can localize:
Course details and FAQs
Course preview and user reviews
Community sections
Study and reference materials
Tests and quizzes
Video subtitles
Video Audio
Comments
On-screen text
Images and graphs
Website and Applications
How many aspects you localize depend on your budget, the size of the target market, and the English proficiency of the target audience.
For example, when a company is testing out a new market, it might start out by adding subtitles in another language. If they see a lot of interest from that region, they will invest in dubbing and website localization.
Some regions require total localization and in some regions localizing some aspects is enough.
We can help you decide how much to localize depending on the region of expansion, your budget, and your goals. Get in touch 
3. Why do you need to localize eLearning?
Many underestimate how important localization is. Some subtle details can make a world of a difference to your end-users. For instance, not many service providers do not realise that colours play a huge part in designing a product.
The reason is very simple: colours are central elements to most cultures. As such, people attach different connotations to them.
In India red symbolises wealth, love, and purity while in South Africa's flag the red colour signifies the sacrifices and the violence which the nation had to endure to earn its independence.
Similarly, in France and Japan yellow have the opposite meaning. While the French recognize this color as a sign of weakness, disloyalty, or disagreement, in Japanese culture yellow denotes courage.
Having this in mind, how do you think a French person would react to your yellow-colored e-learning platform? Or a South African user to the red background of a tutorial's slides? Surely, they would not be very impressed…
Localization takes into consideration these cultural differences, as insignificant as they might seem, in all aspects of your product, to prevent any kind of misunderstanding. Indeed, it is fair to say that localization makes all cultural differences disappear!
Also Read: Localization VS Globalization VS Internationalization VS Translation
To ensure this throughout the process of localization experts have to consider all cultural nuances of the source content and align them with the culture of the intended audience.
What's more, by localizing your content for a specific audience you can improve knowledge acquisition and retention of end-users.
For example, if your courses focus on body language and are targeted at North American people, it will be adequate to use a picture of smiling businessmen shaking hands in the videos. However, this image would be inappropriate for any student in Japan since the ritual in their culture features bowing rather than hand-shaking.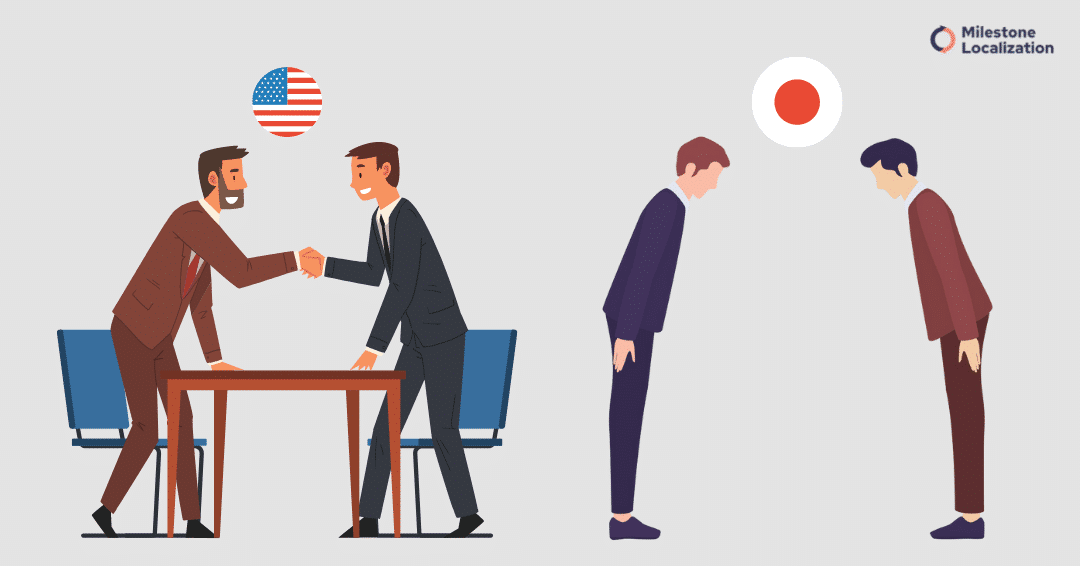 4. Advantages and benefits of E-learning Localization
E-learning Localization is not a luxury, but rather a necessity if you want to reach a wider audience with your courses or your platform. Localization grants you numerous benefits:
Diverse Training Modules. The localization of online training modules optimizes the process of adaptation of the content for different locales. Instead of creating separate ones for each location, you can simply create one which you can then localize for each new locale.
High ROI. Localizing a source training module reduces the cost considerably. However, to make this optimization process as effective as possible make sure to use simple language. Eliminate any complex phrases or colloquial expressions as well as any images or graphs embedded in the text. Clear structure and design are essential for effective localization!
Personalised touch. Localizing your content gives a personal touch to your recourses, making your end-users feel appreciated. Indeed, your client's satisfaction is crucial in order to gain a competitive edge in the global market, so do not underestimate its importance, especially in such a competitive industry.
Boost Your Brand Image. When you localize, you have to strive to represent appropriately all cultural differences of your international clients. We live in a multi-cultural, cosmopolitan world, and valuing diversity will definitely win you more clients which in turn would boost your brand's image.
Localization is definitely a costly process that does not happen overnight. Yet, localization is the most important tool to go international with your courses by reaching wider audiences.
5. Who can benefit from E-learning Localization?
Did you know that non-English countries are currently experiencing the highest growth in online learners? Indeed, this is a one-of-a-lifetime chance, so don't hesitate!
For course creators:
By localizing you can:
Reach a wider, multi-lingual audience and get global;
Make your courses available everywhere;
Leave your global footprint by participating in international education;
Grant your clients an unforgettable experience.
For e-learning platforms:
If you are an e-learning platform, localization will also help you reach wider audiences. In fact, not many online learning platforms offer courses in foreign languages, so you might as well be among the pioneers in the industry!
Localization will not only help you to stand out from the crowd since there are a number of other benefits that come with it:
Offer localization as an additional service to your writers;
Get an increased income without creating new content;
Reach new markets and audiences.
Localization is suitable for both course creators and e-learning platforms on their quest for new users, so do not hesitate to take the next step.
4. What services does E-learning Localization include?
E-learning localization is a rather complex process and as such, it includes a number of different procedures.
These in turn contribute to the overall adaptation of your content. Here are some options you can choose from when you decide to localize:
Transcription. Transcribing all audio recordings into text.
Subtitling. Creating and translating subtitles in different languages.
Voice-overs. Dubbing the videos by expert artists.
Test Translation. Translating Q&A by native speakers.
Learning Material Translation. Localizing text, tables, images, colors, currency, and numbers for your future international students.
Website localization. Localizing your website, so that users can access it easier.
App localization. Translating and localizing your mobile application.
Depending on how your courses are structured and how learners access them, you might need some or all of these services.
5. What steps are involved in e-learning course translations into multiple languages?
Localization is definitely a long and tough process. What makes it even harder is the fact that there are international teams of experts in all kinds of spheres working together. Since localization has so many aspects that need to be tackled, good communication and organization are a must!
To gain a better idea of what the localization process looks like, below you can find a short overview of the main steps:
Preprocessing. This initial step involves the extraction of the content from source files into a translation-ready format. To ensure a flawless localization process, experts design a custom workflow as well as checklists, style guides, and term lists.
Translation. Expert linguists translate all texts online. For top-quality translation, some companies offer a 3-tier translation process, so keep that in mind!
Localization. The localization team reviews all the translated content and makes changes accordingly if it is necessary to adapt the content for the targeted audience (e.g. measurement, images, colors, numbers, and currencies).
Integration. Experts integrate and test all the translated and localized components. This includes audio, video, animations, notifications, links, etc. The aim is to provide the end-users with an experience identical to the original source content.
Validation. After the expert has checked if everything works properly, the course should be validated. This step includes assessment, quizzes, and knowledge checks. In this way, the expert working on the project makes sure that all elements are working properly and the localized course does not differ from the source content.
Final delivery. The localized content is published in the final format, including all localized instruction materials and is delivered to the client.
6. How to approach E-learning Localization?
If you are just starting out your e-learning platform, it is advisable to opt for a simpler design. This will make the localization process much easier since you should not have to adapt the design and the colors of your website.
Udemy has utilized this approach. As you can see from the images below, regardless of the language, the design of the website is identical –  white background and a simple image:
As you have seen, e-learning translation services is a complex process and as such there are a lot of people and processes involved. If you decide to work with freelancers, you will have to build a localization team on your own.
However, this 'team' might not operate very smoothly since it includes experts who do not know each other. This in turn might hinder communication and lead to misunderstanding and, later on, to mistakes.
Working with an LSP for eLearning translation
Your other option is to hire a Language Service Provider (LSP). LSPs offer you localization teams that are used to working together.
Language Service Provider provides a localization project manager whose job is to get in touch with all experts working on the project and make sure that the localization process is on point.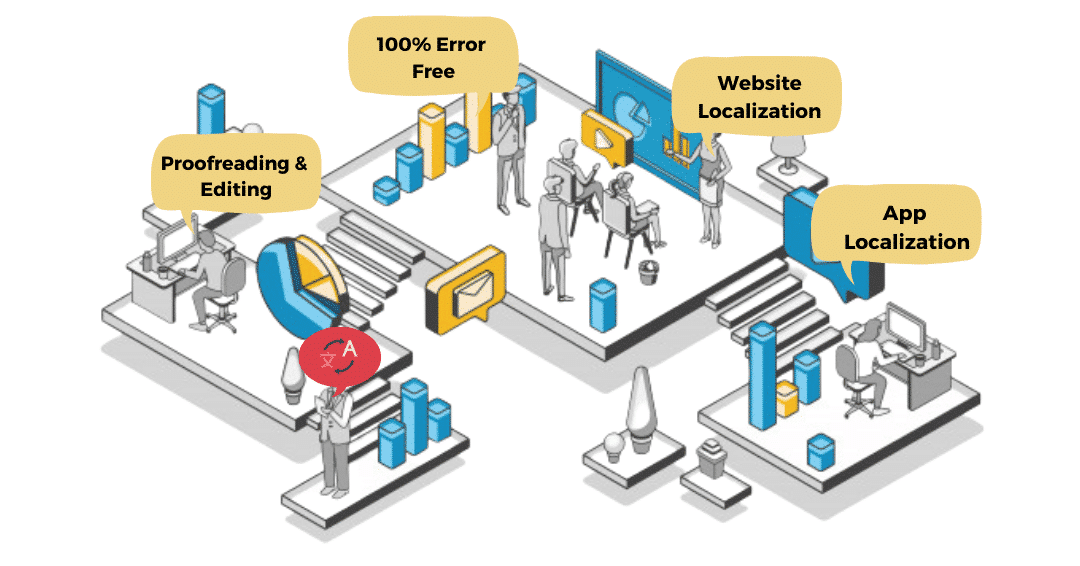 LSPs usually work with teams of experts such as project managers, native linguists, voiceover artists, and technical experts.
Also Read: 7 Reasons To Work With a Translation Company on Your Next Project
In this way, all courses, materials, and modules are carefully and efficiently analyzed, accurately translated and localized, and eventually, delivered on time and within the discussed budget.
Overall, LSPs are well-equipped and prepared to provide you with an end-to-end solution for your project and deliver the translated and localized materials publishing-ready!
At Milestone Localization, we provide end-to-end eLearning translation services in 40+ languages. We design the perfect flow for your project, find the right linguists, use the latest technology and navigate all the cultural nuances so global learners feel like your course was made just for them.
You can get in touch with us to know more.
7. Common challenges when localizing e-learning content and how to overcome them
Due to the complexity of the localization process, it is very likely that something might go wrong along the way.
Here are some common challenges which can give you an idea of what you should pay close attention to:
7.1 Missing Content
It is engineers (rather than linguists) that perform the re-integration of the localization content. The members of the technical team might not speak the target language since the main focus of their job is technically related.
Some courses involve huge volumes of information and due to the delicate nature of the re-integration process, sometimes members of the technical team might fail to integrate certain parts of the translated text or the localized content by unintentionally moving or removing some parts of it.
LSPs, however, offer teams of validation experts who ensure that all are in place and are correctly translated and localized. They also check if there is any text, graphics' audio, etc. left in the source language.
7.2 Layout issues
Layout and format issues are yet another challenge that may occur when localizing e-learning content. This is why the localized content should always be checked against the source language material. In this way, one can ensure that there are no issues regarding the layout and the format. While doing this check you should make sure that:
The layout is the same as in the source materials;
The text does not overlap or truncate;
There are no missing line breaks;
The position of the text and the images is the same as in the source materials.
7.3 Appropriate character display
Sometimes errors occur and thus, a careful expectation for corrupted characters is a must. Usually, corrupted characters display as a sequence of question marks or empty boxes. However, in some languages such as Arabic, Hebrew, and Thai it is fairly difficult to detect such characters so a linguist should do the check.
7.4 Right-to-left languages
RTL languages, such as Arabic and Hebrew, are one of the biggest challenges in any localization project. Since they are written from right to left all content, including images and links, should be flipped around so that the target content appears as a mirror image of the source. In the case of RTL, language testing is essential to ensure that all content is properly integrated.
7.5 Internal and external links
Links can direct to internal documents or to external websites. Indeed, links are often integrated with e-learning content. Thus, all links should be checked in order to ensure that they point to the right locations. Furthermore, the localization of links is crucial. In LSPs, experts test links separately during the validation phase against the source links.
7.6 Notifications
These are validation messages, pop-up messages such as "Are you sure you want to exit this page?" and dialogue boxes. By testing, one ensures that the correct pop-up message comes up at the correct time and the text in the bubble is correctly localized. Furthermore, the localization testing teams should compare the localized course with the source to confirm that all elements are identical. This aspect should not be incorporated as a separate test unit, but rather should be a part of the general validation and evaluation of the localization project when testing the layout and the format.
7.7 Media
Similar to notification and layout, media elements can be a great challenge for any localization team. Thus, linguists should test the media elements. Here are some ideas of what you should be looking at:
All graphics/ videos are localized;
All media elements are incorporated correctly;
The audio is correctly synchronized with the text on the slides;
The subtitles are synchronized with the audio.
7.8 Learning Management System
Most courses are created for LMSs. During the validation phase, it is imperative to cover certain functionality tests to ensure that everything is working properly:
The browser, launched through the LMS, shows correctly the localized title of the course;
The LMS records correctly the target course's progress (compared to the source course);
The LMS records and displays the completion status (complete, incomplete, in progress) correctly;
The bookmarking feature works correctly;
The pop-up bookmark dialogue shows the appropriate translations;
The course displays correctly the users' scores (e.g. pass/ fail percentages, etc.).
Overall, there are so many things that could go wrong during the localization process, however, the right organization, good communication, and the right experts can make it simple.
In conclusion
The global market is waiting for you! Localizing your e-learning platform or the courses you have created could be the best decision for you
The industry has not yet managed to satisfy the needs of the huge non-English speaking audiences around the world. Yes, it is a complex, rather costly process, but it grants you the golden opportunity to reach new, underserved learners.